Protectors of the World
From PRIMUS Database
The Protectors of the World (or known simply as The Protectors) are a super group in the same vein as The Champions, a coalition of heroes who are tasked with taking on world scale events. They have an extensive variety of different skill and power sets in order to deal with conflicts as they arise. Their missions take them from covert operations in faraway countries to fending off large scale, Earth threatening villains. When the stakes are high, it is the Protectors that are called to the scene. This super group takes cues from teams such as THE AVENGERS and THE JUSTICE LEAGUE. It is very much a 'capes and tights' organization with a modern spin.
The roster of the Protectors is composed of charter members who are permanent fixtures in the Protectors. There are in addition Honorary members and Reservists that help out when possible. Charter members are the main force of the team. Each one has the ability to access the Protectors communication hub and utilize the Barlowe Building for every day tasks. Some members even choose to live within the headquarters while others simply use it for professional purposes. Honorary and Reserve members are utilized in a more support capacity, dependent upon specialization and need on any given mission. While Reservists have access to the main communication systems, Honorary members do not. Honorary members are also not limited by their involvement to any other super group they may work for.
Please do not solicit us to join as we do NOT openly take applications. We are more of a 'we will come to you, please don't come to us' organization and constant requests to join the team detract from the fun of playing the game, to be honest. When we wish to add to our ranks we typically look on our own for more established players who fit the tone of stories we enjoy telling. Most of our team is comprised of individuals who are already comfortable with each others' play style. We also have in place a soft cap of around twenty five individual players with a 'no alts' policy in place barring Honorary status. This ensures that everyone can participate and never quite feel out of the loop of the goings on internally within the Protectors (or who is playing what character, what story lines are going on, etc etc)... as is often the case with large super groups. Players who are not part of the team may from time to time join in Protectors of the World adventures as Honorary Members, which is always a great way to meet new people and share in the fun. These events are posted on CORP from time to time for members of the public to participate in as opposed to just our own website.
To learn more about the Protectors of the World, click on the Protectors logo below to head to our website!
The Protectors of the World were formed in 2013 when the heroine Sparrowhawk saw the need for a group of heroes which could fend off threats on a global scale. Mostly a solo crime fighter, Sparrowhawk constantly found herself drawn into conflicts with villains who necessitated an entire team to stop them. She briefly worked with the UNTIL affiliated Rising Force whose doors closed early in their inception. Taking a cue from this, she decided to strike out on her own, forming an organization of veteran heroes, up and coming rookies and heroes she had previously worked alongside. Enlisting her then partner, All-Star, she began the arduous task of reviewing individuals that would mesh well both personality and power wise. Some of the early members included African Violet from South Africa, Katsuo from Japan, the robotic C.O.P. from America, Canadian legend Thundrax and even former teenage ingenue Dobergirl. Using a sizable amount of financial assets and with the backing of UNTIL, she set up their primary headquarters in Millennium City's famous downtown Barlowe Building. Renovating and occupying its uppermost ten floors, the team was outfitted with a state of the art base of operations and a place to call home.
The first year of the Protectors was extremely busy and quickly tested the mettle of the newly formed group. They were taken to task before their headquarters were even completed and the roster finalized by the 175, which was the number of secret identities compromised during an attack on PRIMUS. This was followed up by battling everything from African gods to World War 2 villains with a score to settle against old foes. The Protectors earned a sterling reputation for these successes. Hailed as heroes across the globe, UNTIL ensured the Protectors were on the first lines of defense when situations would arise. New heroes continued to join their ranks as their team expanded, such as the well known heroine Razira and the mystical aquatic hero Seadragon.
The beginning of 2014 was marred by the apparent betrayal of the team's own leader, Sparrowhawk. In actuality she was captured, tortured and outfitted with a neural inhibitor which effectively controlled her actions against her will by members of the APOTHEOSIS PROJECT, an organization bent on ridding the world of super human influence. They used to her to attempt to turn public opinion against super powered beings under the guise of an anti-meta heroine named Virago. After an assault in which Sparrowhawk single-handedly defeated most of the group, the Protectors were in in a state of shock and tried to quickly rebound. Problems further intensified as All-Star, taking on leadership of the team, suggested they kill Sparrowhawk, not aware of her current state. This created a rift within the Protectors, causing Thundrax to question the morality of All-Star's methods and resulted in him leaving the team. There were other challenges as well. From Canadian Fist losing her powers and going on a mission to restore them to discovering a gene bomb that could readily kill off most of the Earth's super beings, the Protectors persevered. Founding member Black Sigil sacrificed himself to save the lives of the Protectors and Xanthe was taken out of commission by an attack from the villain CASSOWARY. After Sparrowhawk freed herself from the mental thrall she was under, she joined her friends just in time as a monster known as LEVIATHAN attempted to destroy Millennium City. The collected forces of Protectors both charter and honorary faced him down, and both he and the APOTHEOSIS PROJECT were toppled, though at a great cost.
The events of the last few months being known as The Eugenics War, the Protectors struggled to stay together as internal strife and distrust ate at them. All-Star took a more proactive role in leadership while Sparrowhawk took it upon herself to bring the rest of the APOTHEOSIS PROJECT to justice. Katsuo upgraded his armor as Canadian Fist took the new identity of Artifist. The Barlowe Building was renovated and upgraded even further after LEVIATHAN'S attack. The alien heroine Voreen was brought into the fold as a new member, helping to revitalize the sense of camaraderie just as Sparrowhawk returned to the team as active leader. They fought such enemies as the CHILDREN OF PRAJNA and stopped a multidimensional device from tearing apart time and space itself.
Months later All-Star was reportedly killed fighting an old adversary of his with the aftershocks leading to Sparrowhawk taking an unannounced extended leave from the team. The Protectors, losing both their main driving forces, focused less on the Protectors and several of their members went to other endeavors as the Barlowe Building grew silent. It was months later when Sparrowhawk chose to return, determined to re invigorate the team and rally them once more. The first order of business was to add new blood to their ranks. Members were inducted such as veteran powerhouse The Peacemaker, second generation hero Stonemason, the tempestuous aquatic heroine Fathom and the effervescent Cosmic Glory. Zwein found himself working alongside both the Protectors as well as temporarily leading a group of Westside heroes as Honorary Protectors. The mantle of Field Leader was passed to Razira in recognition of her accomplishments and dedication to the team, moving them into a new era.
Their timing could not have been better. The threats faced by the team seemed to grow exponentially. The cosmic cult known as THE ALMAGEST and the return of the bizarre KAPTAIN KOMICS were just two of their new battles. The Protectors clamored to save the world and civilization from being destroyed by a terraforming, near planet sized space ship and then took on the responsibility of keeping said planet safe as it harbored millions of life forms aboard. Razira became both its protector and custodian. Cosmic Glory dealt with graduation and the move into adulthood only to find her secret identity compromised. Thundrax, the Canadian hero who had left the team the previous year, was seemingly killed and not only returned to life but to the Protectors as well. They have found themselves working undercover to retrieve DNA samples of super powered beings to dealing with the evil designs of the villainous Captain Conquest. New recruits such as hacktivist turned hero Tesseract, gunsmith Armory and war veteran Captain Adamant joined the fold.
An attack which crippled and nearly destroyed Millennium City, carried out by a super- charged vampire named ADRIAN ARKWRIGHT, was fended off by the Protectors. While successful, the Barlowe Building's upper floors were severely compromised. This was compounded by an assault from an entity called Husk resulted in further destruction of the team's headquarters, which resulted in a complete overhaul and upgrade of its systems when it was rebuilt. Imp joined the Protectors just as cyber villain M.E.K.K.A. attempted to take control of the planetoid spaceship Avestus, which Razira was guardian of. A reality shaping relic called the God's Eye was uncovered, only to find itself in the hands of evil... and which led to Sparrowhawk taking it upon herself to recover. Kara McIlroy's father was killed in action as the Protectors worked alongside the Freelancers, resulting in the young heroine taking up his name as Keioseth II.
The Protector's membership continued to shift, with a few individuals leaving the ranks of the team as newer members introduced themselves to the experience of global crime fighting. War Hawk joined heroes like South Africa's Jinn and Germany's Fahrenheit in taking up membership to espouse the tradition of those joining from countries about the world. VIPER, the vicious and diabolical DR. KAUFMANN and even troubles from Peacemaker's past quickly reared their heads. Cosmic Glory found herself finally tying the knot with her long time love, Brad, in front of her fellow friends and allies alongside a host of other heroes. Razira continued to play 'Mother Wolf' by ensuring the Protectors' morale continued to flourish even in darker times and welcomed former villain turned hero, Native American skinwalker Witchery Way to their ranks.
Atomac soon joined, 'graduating' from the teen heroes known as the Young Sentinels to join the Protectors after working alongside Captain Adamant. Peacemaker was assigned to head over security at the Barlowe while Adamant became responsible for the training of the team. Tesseract's chronokinetic powers over time were too much for her physical form, and for nearly a full year was lost in the time stream as the team searched in vain to locate her. Space cowboy Ironhide formally joined the Protectors, lending his keen marksmanship abilities to fight injustice. Cosmic Glory was briefly thought dead after one battle and was mourned by most, though her body was magically reinvigorated and she quickly returned to active duty. The Protectors saved the city of Pittsburgh alongside the secretive Initiative Black from the servitors of KOSTADIN THE BLACK. Then, not long afterwards, some of the team were thrust to the future by the villain RIFT. Finding a world that was horribly warped and devoid of most super humans, the Protectors fought for the means to save Tesseract and return to the present. Shortly thereafter, Sparrowhawk chose to step down from her leadership role, passing the torch to Thundrax and setting the stage for a new era.
After Sparrowhawk's departure, the team faced some of its harshest trials. The Protectors, at Captain Adamant's insistence, became ensnared in the machinations of COLONEL SPEKTOR before knowing it, which resulted in the death of over a hundred across the United States and left their armored field leader in a coma that lasted months. The team also contended again with KOSTADIN THE BLACK and M.E.K.K.A. While KOSTADIN unleashed a horde of undead on Allegheny National Forest, which the Protectors and Initiative Black fought off together, M.E.K.K.A. infected the Peacemaker and Razira with a potent technovirus that nearly claimed their humanity. Though Captain Adamant recovered, and the team remained steadfast, several members departed from the group, including Jinn, who had only just found freedom from his former master, BARON SOLOMON.
Then Sparrowhawk returned to the fold, assuming command of the team without ceremony and without a hint as to her exploits abroad. Soon thereafter, the team welcomed Blue Pheasant, Oni, and the Living Goop to the roster as well as providing UNTIL mandated oversight to the young woman known as Linden.
The Protectors continue to be at the forefront of the crime fighting teams in the world, ready to rally together against any crisis which might rear its head.
The Barlowe Building serves as the current headquarters for The Protectors. The building, primarily an executive hotel, has had its uppermost ten stories redesigned and outfitted to accommodate the super team's needs. This has transformed the building into one of the most popular landmarks in the country (as well as notoriously difficult to actually access for what was a public establishment). The headquarters is run by an artificial intelligence known as Mother, a more intuitive version of the program designed by Sparrowhawk for herself to aid in crime fighting which was co-created by UNTIL contractor Simon Reynolds. Mother handles every day tasks as well as more specialized functions, such as controlling PORTAL (see below). Security, currently overseen by Peacemaker, is extremely tight and incredibly advanced and with good reason given the tenants are a world renowned crime fighting unit.
The upper floors contain the following:
Living Quarters. The residential facilities of the Protectors is composed of twenty four 900 square foot residential suites. These are for reserved for the active members of the Protectors of the World and constitute two of the lower floors that the Protectors utilize at the Barlowe (the lowest floor actually is home to their security network). Some members use these as full time living quarters; others are used intermittently by certain members when in town or merely as a home away from home, decorated as they wish. Certain rooms are tailored towards an individual's specific needs. Former member Seadragon, for example, once had a large water tank in his personal quarters.
Common Room. Wide and expansive, the Protectors of the World common room possesses a flat-screen satellite television, numerous sofas and chairs, a warm fireplace and access to a variety of media from movies to video games. With a direct link to the dining area, it acts as the main social hub for the Protectors of the World when they're on and off duty. This is usually the first place recruits are shown courtesy of Razira, whose job it is to act as mentor to those new to the team.
Dining Area. With a fully stocked kitchen with access to a wide variety of supplies and a table large enough to accommodate most of the team, the dining area is one of the main social hubs for Protectors spending time at the Barlowe Building. Cosmic Glory can often be found within, trying out new culinary techniques to the delight of most of the team.
Gymnasium. Outfitted with all the finest exercise equipment and facilities to help the Protectors tune their bodies and minds, the gymnasium of the Barlowe Building caters to humans, meta-humans and extraterrestrials looking to get a good work out. With an Olympic-size pool, a sauna and studios for acrobatics and dance, the gymnasium has everything you could need to stay in shape -- and then some. It is not uncommon in the gymnasium to find Razira or African Violet in the pool doing laps while Thundrax and Captain Adamant are boxing.
Rec Room. Much like the common room, the rec room of the Barlowe Building was made with socialization and easy entertainment in mind. With a fully-stocked bar, a pool table, a media center, an arcade, a state of the art sound system and a library of books and files, the Protectors are free to kick back, relax and enjoy their free time in luxury.
Crime Lab. With enough top of the line equipment to put the FBI to shame, the crime lab offers the Protectors ready access to all the fixings they need to tend to the investigative side of their work, be it autopsies, crime scene investigation or substance analysis. Though, for all intents and purposes, it can very well act as a regular lab for more scientific Protectors, calling it the 'crime lab' just makes it sound cooler.
Medical Center. Attached to the crime lab, the Barlowe Building's medical center is a facility equipped to deal with the medical emergencies of even the most esoteric members of the team. With medical equipment and supplies suited to human and alien biology and flash-freeze storage for the dead and the unconscious, it serves the Protectors well when things take a turn for the worse. The Medical Center is overseen by the Mother AI.
Mystics' Room. An area slightly off the crime lab and medical center, this room houses a number of trinkets and books which benefit the more mystically inclined Protectors and is equipped with supplies which would benefit any mystic from an alchemist to a dimensional wayfarer. It has been specially warded against intrusion and scrying, safeguarding it against any particularly sneaky magic-types. Mostly used by Fahrenheit though Witchery Way is known to be located here from time to time as well.
Tech Room. An area beside the Mystics' Room that serves as a hub to repair, creative or investigate items of technological origin. Various schematics are available of numerous devices villains have created and used from UNTIL files. Prototypes and other interesting things are about the room in various phases of construction. A former service bay for C.O.P. was transformed into a R&D area for Peacemaker which he now employs for the entire team with assistance from Wildeye.
Counseling Office. With the obvious stress entailed by a life full of combat and high stakes, a counseling office has been set up in the Barlowe Building This provides a safe location for the Protectors to vent their worries, frustrations and hang-ups to the team's resident counselor, Aura.
Briefing Room. A moderate circular room containing a large table with a holographic display in the center of it, the briefing room acts as the main rendezvous point for the Protectors before and after missions. Here, they make ready use of their access to a relay of worldwide news and events to brief and debrief on upcoming missions, organize strategies and assign roles. Lockers containing primary and spare costumes/gear allow the Protectors to suit up before charging in to battle.
Training Room. A hi-tech facility which makes use of a combination of hard-light, holographic projections and more traditional mechanical systems, the training room is outfitted with advanced combat simulation technology which allows it to mimic the dangers and intricacies of actual combat scenarios within a .001 margin of error. From the control tower, scenarios can be programmed and fine-tuned via a user friendly command interface overseen by the Mother AI and data from the the Protectors' various field missions and training sessions can be analyzed and implemented to keep things challenging. Captain Adamant has been placed in charge with training the team and using this room to monitor their progress.
Hangar. An expansive hangar which stores the Valravn and the various vehicles the individual Protectors regularly make use of. Access to a large supply of tools needed to maintain said vehicles is also a given.
Mission Control. Usually manned by Sparrowhawk (and Tesseract, given her computer expertise), the mission control room acts as the communications and observation hub for the Protectors of the World. From here, all the technological facilities of the Barlowe Building can be controlled and scrutinized and access to satellite transmissions allows the Protectors to maintain visual and audio coverage across the world via the Mother system. When an outside party wishes to contact the Protectors directly, this is where they're usually put through to.
PORTAL, or Photonic Operated Remote Teleportation Arrival Link. The PORTAL system is a large, arch like device located off the main meeting room. Maintained and operated by the Mother program and activated by voice command, Portal uses orbital way-points keyed to the Protectors of the World's holo-badges to allow for instantaneous teleportation to most locations around the world. While once only activated to main cities, the system now utilizes a satellite link up that only needs coordinates to ensure safe travel. The PORTAL system can therefore grant the Protectors the ability to respond almost instantly to the global threats they often find themselves facing. Despite its efficiency, however, the PORTAL system is both expensive to use and prone to causing nausea and dizziness in some. As such, the Valravn is the more economic choice when time isn't of strict importance.
Defensive and Offensive Systems. Due to its very public location and the value of many of its interior facilities, the Barlowe Building is outfitted with a number of offensive and defensive countermeasures and apparatus to help keep the enemy out (or, in some cases, in). With powerful weaponry and defensive systems courtesy of both some of the most brilliant minds on Earth and some even not of this Earth, the Barlowe Building is more than capable of holding its own. All members have been trained in its use.
Trophy Room. A stretching hall full of glass cases and displays, the trophy room is home to the collection of trophies, souvenirs and gifts the Protectors have received during their missions. With security measures put in place for the more dangerous items, the trophy room offers a nostalgic walk down memory lane for any Protectors in the mood. Jinn was known during his time with the Protectors to linger here often, kind of torturing himself due to the 'Look, but don't touch'-policy that was put in place (at least for him).
In addition to the Barlowe Building, there are nine small underground bunkers (labelled 'Nests') around the world for the Protectors to utilize as off site headquarters for the team. These allow the team to be stationed almost anywhere at any time. Each one is outfitted with a meeting room, weapons bay, computer system and small living quarters complete with an eight bed dorm. They are situated in every continent and can be accessed independently or through the PORTAL system. Each Nest is maintained primarily through the Mother AI system like the Barlowe Building has. Two of them contain hangers with a back up Valravn. Nests include: Canada, Argentina, Algeria, South Africa, Russia, United Kingdom, Australia, Japan and Antarctica.
The VALRAVN is the Protectors' personal state of the art jet and primary mode of transportation when PORTAL is not necessary or available. Initially designed by Alex Harper (Sparrowhawk) and her friend Simon Reynolds, the team's jet was originally named the Peacekeeper by former member (and one time Field Leader) All-Star. The Peacekeeper was used sparingly and carried little in the way of offensive measures. This vehicle was used by the Protectors until its destruction during their mission in Savage Beginnings, Finale, when it was decimated by vessels deployed by the planet Avestus.
After it was destroyed, the jet was given a complete overhaul from the ground up by Sparrowhawk, who brought Protectors Zelara and Voreen aboard and used their interplanetary expertise to redesign something far more functional. The trio integrated various alien tech in its systems, and Sparrowhawk added to its weaponry and defense capabilities to make it more viable on the battlefield if necessary. Since that time, it has continued to have its systems improved, and currently is more of a project between Sparrowhawk and fellow Protector, Peacemaker. The two of them are responsible for its most current iteration, which the majority of the team employ.
All Protectors are trained in the Valravn's basic use, though it has a built in user intuitive interface to aid those whose experience in flying may be a little less informed. While this is a boon to some of the less experienced, others continue to have issues while at its helm, such as Jinn (though if this is willful ignorance or unintentional, no one seems to know). It is responsive to all current charter and reserve members of the team should they need to operate it. Typically, the Valravn is piloted by Sparrowhawk, though Razira, Peacemaker, and Captain Adamant are notably proficient in its use. While there is only one Valravn located at any one time within the Barlowe Building's hangar, several others Valravns are situated throughout the world, located in the Nest bunkers. Eight others currently exist in the Nests that the Protectors are aware of, while a slightly modified ninth one is situated in a Nest that the majority of the Protectors are unaware of, used by the Secret Protectors for their missions.
Capabilities include:
VTOL (vertical take-off and landing) capability
Can operate in and withstand deep ocean pressures; cabin has been built to regulate decompression
Has a flight speed of 4,200 mph inside the Earth's atmosphere (slightly over mach 6)
Can be fitted for outer space travel, reaching faster than light speed outside of Earth's orbit.
Can fit comfortably a flight crew of two and four passengers
Kendrium armored plating along the hull for maximized natural defenses
Nanite infused repair system to minimize structural damage and possible decompression
Repulsor projectors: Enabling a form of stasis to immobilize items and people
Gadroon modified force field system
Repeating pulse lasers on its sides
Air to Air and Air to Surface missile systems ("Kunai Missiles", x6)
Plasma Cannon on its underside
Kendrium Alloy Cable/ Winch
Worldwide satellite interface for tracking, coordinating and relay
Screechers: Sonic wave devices capable of emitting several types of sound to disable and incapacitate large groups
Holographic and stealth capability
In the interior of the ship is a number of UNTIL issued weaponry at the Protectors' disposal
PORTAL enabled technology, allowing it to open gateways between most large cities
Remote voice activation system. Valravns can be controlled remotely by a series of codes, though these are only known by the Field Leaders of the team to prevent any possible misuse. The Secret Protectors' Valravn can only be controlled remotely by Sparrowhawk.
Name: Dr. Jacqueline Whitelock
Abilities: Empathy, Telepathy, Telekinesis
Rank: RESERVIST, TEAM PSYCHOLOGIST

Aura, an UNTIL costumed hero/ agent from Great Britain, was relocated to the United States after the anti-meta 'heroine' Virago began a crusade against the super heroic populace. Setting off a chain of events where the heroes of Millennium City were facing severe issues of mistrust against each other, Aura stepped in to provide support to the struggling Protectors of the World. Her chief role is as both counselor and therapist, but she isn't opposed or shy from assisting with combat related duties, if and when she is needed.
Name: William Pepler
Abilities: Strength, Invulnerability
Rank: RESERVIST

A member of UNTIL, Noble spends much of his time a 'test subject' for various weapons and their effects upon super powered individuals. A father and husband, he also makes time to assist the Protectors when necessary, lending his awe inspiring strength and incredible physical fortitude.
Name: Audrey Peplar
Abilities: Telepathy, Telekinesis, Empathy, and Martial Arts Training
Rank: RESERVIST

"You will learn more from the mistakes you make in life than you ever will from the things you've done right."
Psion - previously known as Psioni-Gal - is a former teen hero from a now disbanded group known as the Teen Wardens, with a career that goes back to 1997. When her former team parted ways, she stepped into a solo career and pursued academic pursuits. Along the way, she reconnected with former teammate Noble, married, and became a mother. Now, she is the owner of a highly successful coffee shop chain (Super Latte), set up a network of heroes operating in Westside (known as the Westside Defenders), and has joined her husband in the Protectors of the World.
Protectors Missions 1-15
Protectors Missions 16-30
Protectors Missions 31-45
Protectors Missions 46-60
Protectors Missions 61-75
Protectors Missions 76-90
Protectors Missions 91-105
Protectors Missions 106-120
Protectors Missions 121-135
Protectors Missions 136-150
Protectors Missions 151-165
Protectors Missions 166-180
Protectors Missions 181-195
Protectors Missions 196-210
Protectors Missions 211-225
Protectors Missions 226-240
Protectors Missions 241-255
Protectors Missions 256-270
Protectors Missions 271-285
Protectors Missions 286-300
Some of the items in the Protectors' Trophy Hall include:
Illyana's slightly-charred doll from Nuclear Winter
A signed extradimensional copy of 'PROTECTORS OF THE WORLD #1' starring Dobergirl, Black Sigil, Canadian Fist, Katsuo and Zelara from Dickman Cometh!
A copy of the SUPERCHAT episode featuring the Protectors from To Hollywood, Love Ada
The disembodied head of Doberman's statue from It's a Dog's Life
A suit of battered power armor from one of the Furies in Operation: Leviathan
A library card from the library of Kryptos, keeper of secrets, from The Beginning Place: Higher Planes Drifters
A laser spear from one of Tartolmec's Eagle Warriors, from The God King of the Forgotten Islands
Holographic display of M.E.K.K.A. and an offline janitor bot from Most Happiest Yelling Discomfort Land
Broken bobble heads of Ada Clover, Sparrowhawk, African Violet, Jade General and Razira from How To Get A(bobble)head In Business
Kamen Eiyuu power belt (aka Flurry) given to the Protectors from Agent Ishinomori from Go Henshin Katsuo Super Mode!
Holographic Display dedicated to Black Sigil, who died heroically while saving numerous heroes on a remote island near Peru in JAILBREAK!
Dagger of Kryladar, currently inert with no obvious magical properties, from Going For The Gold
A potted flower with a disturbingly grumpy face from Roses are DEAD
Fragments of the dimensional device/ pineal cortex stimulator from Miskatonic Mayhem
Hench Co. security jumpsuits for Dobergirl and Sparrowhawk from Hench For A Day or How I Learned To Stop Worrying And Sign The Contract
The Chauffeur's Used Golden Apple from The Great Stellar Escape
One of Princess Bebe's forearm stingers, with some poison still inside, from Just Bee Yourself
Princess Bebe's Mace from Just Bee Yourself
Netherworld Mystical Pendant of Dr. Merriweather, Shining Son, from Fire Woman
Vintage penny dreadful titled SPRING HEELED JACK, THE TERROR OF LONDON from Avalon
Signed CD from Ava Adore of Resting B!tchface's single, I Love You Like A STD, from Death Metal
TYR armor and weaponry culled from operatives in Race To Graduation
The charred remnants of the relic used to destroy Adrian Arkwright in Sanguinis Cruentatio: Finale
The left cybernetic forearm of the villain Campaign from I Wanna Go To The Sun
Killer Chrome's EMP Gatling Gun from Big Guns Pt. II - Shoot to Thrill
Ryoushii Attack Ship from End of the Line Finale
The now burnt out Coin of Cai Shen, former source of the Golden Dragon's power from Money Is Power
Dr. Munich's plaque from the DC Weird Wars museum from Brains from the Past
A reproduction of a pre-Colombian sculpture from Starman
The partially eaten sign of the town of Lonewick from Bazaar's Bizarre Adventure
A piece of Hellrider's bike from Ride to Hell
A high tech hockey stick from Sudden Death
A burnt out teleportation device dropped by Dynamo from Blue Steal
A small, empty gas canister labelled 'Nightmare 2.0' from Fear and Loathing in Millennium City
One of Snakehead's shed skins from Why did it have to be VIPER?
The front door key to the Garland Mansion from Scary Things
Black Lung's hard hat from The Big Smoke
One of Fitness Freak's supplement vials from Healthraiser
NOTABLE NEMESES OF THE PROTECTORS INCLUDE THE FOLLOWING:
Adrian Arkwright: An ancient vampire who also commands vast mystical abilities. Adrian was able to create a drug called "The Thirst" which allowed him to tap into the humanity and energy of humans, adding to his own power considerably. It also created a form of quasi-vampirism for anyone addicted to it. Adrian led a full assault on Millennium City in the summer of 2015, nearly destroying it. His plans were thwarted by the combined efforts of the Protectors of the World and a gathering of Millennium's most powerful heroes. Arkwright himself was vanquished by a holy relic (a stake which was originally part of the cross Christ was crucified upon) that made its way to the team's hands, piercing his heart and saving everyone involved.
The Apotheosis Project: The Apotheosis Project was a vast organization of people scattered across the world whose purpose was to remove super human individuals from the planet. Many held high ranking positions in government and military organizations. Most of the names of those affiliated with this movement were discovered by the Protectors. After the fall of Leviathan in Millennium City, the remaining members went into hiding. Sparrowhawk took it upon herself to bring the majority of them to justice.
Ao Guang: Chinese mystical villain. He is well versed in the occult and supernatural. Often utilizes mystical objects and items to enhance his powers. Ao Guang was responsible for opening up ancient rifts deep within the ocean and attempting to wipe out parts of Burma before the Young Renegades and Protectors defeated him.
Colonel Spektor: Army Colonel Frank Spektor's last mission put him at the center of a conspiracy by DEMON and the CIA to obtain the mysterious "Dzakarian Stone", an artifact that granted control over the sleep and dreams of others. When he found out that his unit was being manipulated by those with ulterior motives, he used the Dzakarian Stone himself, and went into a coma. While asleep, Spektor learned the ins and outs of the Dreamzone, and spent years of dreamtime exploring his new abilities, before putting them to use. Using an astonishingly well-coordinated group of followers across the United States, Colonel Spektor aims to uproot the evils that grip America's citizens and their government, no matter the cost. He is a gifted strategist, skilled manipulator, a charismatic leader, and appears entirely without mercy, even if his fellow Americans - or the Protectors of the World - get in his way.
The Conquerors: A team of metahumans and deadly mercenaries lead by the head of state of Buwugu, Captain Conquest. Consisting of 7 additional members among which the Protectors have thus faced Killer Chrome, Hitokiri and Lady Silken, the Conquerors also have an elite band of soldiers at their call and beckon, making them a force to be reckoned with. Their modus operandi is to secure powerful weapons and black market deals worldwide, and they will stop at absolutely nothing in order to keep the lands of Buwugu the most powerful military force on the African inland. Whether loyal to the cause or to the money they're provided, they're certain to not let any hero, not even The Protectors, get in the way of their business.
Cassowary: Jason Mansfield is Cassowary, one of the main players who was involved with the Apotheosis Project. Essentially a genetic 'brother' to Sparrowhawk, Cassowary has led attacks on the Protectors before. With the Apotheosis Project currently brought to its knees, Cassowary still is at large, using his power and talents to garner him favor in the criminal underworld.
Crimson Fury: Crimson Fury is an Indian super villain who has created a technological empire in his home country. He sells weaponry to the highest bidder and was one of the vendors used by the Apotheosis Project. Crimson Fury used an air carrier about a mile in length to conduct his business venture. The carrier was destroyed by several members of the Protectors of the World, though Crimson Fury himself escaped.
The Datamen: A collection of six individuals who together have amassed a computerized criminal empire. Originally they were responsible for retrieving 175 coded named out of PRIMUS' files. The files were wiped, however, before they could be properly decrypted and sold to the highest bidder in an 'auction' of sorts for villains. The Datamen were foiled but currently still at large.
Doctor Ashe: Dr. Ashe was a scientist who heralded the Mag-Men, creatures of ancient power, in New Zealand.
The Furies: Trio of Greek female assassins. They are sisters Aylala, Alissa and Ariadna Petros. Each one of them is highly trained and wields a specially designed suit of power armor. They work for the highest bidder, which has put them at odds against several heroes, most notably the Protectors. Alissa's power armor was recovered by the team during one fight, though all three have since upgraded their uniforms and fighting equipment. They remain at large.
Gadragon: Alleged alien jailor or warden of a prison planet. He was involved in one battle with the Protectors, but he made a hasty exit and a promise to return soon to Earth.
Invictus: Invictus is former Senator David Sutherland, a super villain who poses as a super hero to mask his insane and diabolical motives. A worshiper of the cult of Sol Invictus and a gestalt with the spirit of an ancient Syrian sorcerer which gave him super strength, invulnerability and sun beams. At one time he altered the time stream in a bid to remove his former misdeeds which were uncovered and made public. Currently heads a team of roughly one hundred lower tier borderline low-end supers called the CenturyCorps which do his bidding. Invictus and Thundrax have clashed many times over the years, several of which have involved the Protectors.
Kaptain Komics: Kaptain Komics is Eugene Harris, your stereotypical slovenly comics reading nerd. What what he lacks in character, he makes up for in power. Kaptain Komics is a mutant, one who is actually able to slightly bend the fabric of reality to his own bidding. The only things he requires is an imagination and a focus to keep his powers engaged. In the past this has been such things as a pen or a hair ribbon. He often plays upon things he already knows about to shape his fantasies into reality like books, movies, cartoons and, you guessed it... comic books.
The Kraken: The Kraken is a notorious super powered pirate who has command of a fleet of a number of aquatic vessels. His men are fiercely loyal to him and well-trained. The Kraken himself is versed in armed and unarmed combat. He possesses the ability to lift around 40 tons, enhanced reflexes, the ability to survive underwater and withstand great pressures as well as a suit of armor which grants him additional protection. His favorite above-water weapons are two energy whips that he is incredibly adept at using. Some say his small army could very well number in the thousands and he has several dozen ships that do his bidding upon the high seas.
Leviathan: Leviathan is a villain of almost immeasurable power. His origins are unknown, and more monster than man, Leviathan revels in utter destruction. This villain is deemed to be one of the most dangerous beings on the planet, akin to Grond. Leviathan can grow to a height of around one hundred and fifty feet, lift over fifteen thousand tons and has the ability to release a poisonous, toxic gas from his pores. Currently Leviathan is held in stasis at an underground facility in an unnamed city in the United States.
M.E.K.K.A.: A technological genius and madman, M.E.K.K.A. began primarily as a nemesis for Sparrowhawk. He had runs ins on several occasions with the group Rising Force as well as the Protectors. Incarcerated in Stronghold, the villain committed suicide, uploading his consciousness into cyberspace as a way to free himself. Once free of the flesh of humanity, M.E.K.K.A. attempted to take control of Avestus, the small planetoid ship which was being guarded by the Protectors. Though that directive failed, both he and his mechanical minions have posed a threat to humanity that the Protectors are sworn to stop, wherever it may be.
The Men in White: A vast organisation under the leadership of the ex-assassin known as the Doctor, the Men in White are involved in a wide range of criminal activities: drugs and weapons trade, money laundering, illegal gambling and more. In comparison to other gangs and cartels they excel through superior training and equipment as well as subtle methods and careful planning, which makes them a noticeable threat to law enforcement and even superheroes. They have smaller operations all over the United States, but are most active in Hudson City, Vibora Bay and Millennium City, where their HQ is located. The Protectors and the Men in White have clashed on numerous occasions (and even grudgingly worked together against larger threats).
Red Mist: An invocation of the demon-god Baal Berith, Red Mist is a powerful entity motivated entirely by consuming as much blood as possible by any means necessary - the more violent, the better. His first appearance was after the Protectors attempted to rescue Patrick Marko, an otherwise nondescript accountant, from being the victim of a major DEMON ritualistic sacrifice. The ritual was interrupted, and Patrick was taken to a clinic in West Side. There, the Protectors and the Progeny learned that Patrick had in fact become something else, and defeated him after he managed to kill several of the clinic staff and enthrall several of the patients. His frozen remains have been locked away - but can an evil so ancient really be trapped like that?
Shining Son: Dr. Martin Merriweather was a cult leader whose influence led to the creation of the Children of Prajna. Merriweather, using a mystical pendant, took his followers to a self labelled utopia. His true ulterior motives were to summon a creature of great other dimensional power. Dr. Merriweather's hopes were dashed by the intervention of the Protectors and his pendant destroyed, thereby sealing the ability of the creature to pass into our world.
Spring-Heeled Jack: Spring-Heeled Jack is a demonic entity that may or may not be the same Victorian era monster from the 1800s. Spring-Heeled Jack inhabited members of the Adventurers of Avalon to turn briefly evil and kidnap several members of Parliament. He was using Stonehenge as some sort of mystical focus as he fought and was defeated by Zwein and several other Protectors in combat.
Steel Champion & Scrappy: Steel Champion and his faithful side-kick, Scrappy, were heroes that the government in the 1950s used to fight in the Cold War. When things subsided, the two were placed into a facility to be held. The facility was officially closed in 1978, but the two remained. They were at one time human, though treated very much like robots. For 37 years they remained awake, driven to a form of insanity from decades of solitude and inactivity. They fought against several Protectors after the two almost destroyed a small Pennsylvania city. They were awoken from their confused mental state and surrendered. Both of them now are free, working with UNTIL as well as receiving psychiatric treatment from the Protectors' own counselor, Aura.
Timmy, the Tiny Terror: Timmy, a bratty eight year old child, also exhibits several powerful traits. Possessing super strength, a form of force field/ invulnerability, flight, and energy beams which can emanate from his eyes, this child is a definite threat. His world, shaped by violent video games, also lacks any sort of compassion for others... all of this leading to potentially one very homicidal child is left unattended.
Tsetse-Bumba: A mystical spirit deity of sorts, Tsetse-Bumba worked at destroying African Violet during a trip to South Africa. Her plan was foiled when her throat was ripped open by none other than Dobergirl... though it remains to be seen if you can actually kill something so powerful.
HAVE A COMMENT OR OPINION TO SHARE REGARDING THE PROTECTORS? WRITE BELOW!
"I'm quite proud of what the Protectors have accomplished since the group's inception. If you told me in the beginning of my career that I would be the head of such an organization I would have laughed. I always was the type who consciously shirked from such collectives and preferred to work alone. There has been a lot I've learned not just about others but myself as well from embracing a team dynamic. Together, we are unstoppable... and I think the world is safer for it." - Sparrowhawk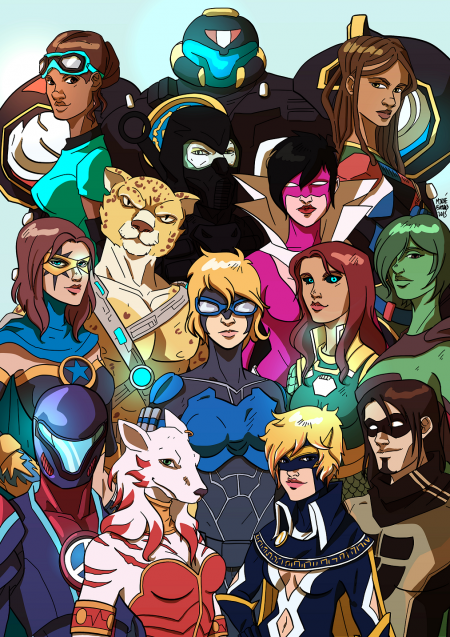 "I'm not sure if the team will ever fully recover from the loss of Thundrax's mullet, but they're quite possibly still the strongest hero team out there. At least until the new generation has had the chance to catch up to 'em." - Black Ice
"As a Honorary Protector... no really, I TOTALLY worked with them before... I think they are A-MAZ-ING. And Stonemason, CALL ME! I totally gave you my digits and haven't even heard back from you!" - Lash
"Sometimes I wake up and wait for someone to say 'just kidding, we really didn't mean to invite you.' I mean there are people on this team that completely outclass me, not just in terms of powers but experience as well. Even though I may not see eye-to-eye with all of my teammates, I know that without a doubt that they have my back." - Tesseract
"I'll confess that my experiences with heroes outside of my own team is limited. From what I can gather, I think we could learn a lot about teamwork by watching the Protectors at work." - Cait Sith
"After my last team went their separate ways, I thought for some time that maybe I was meant to stand on my own against injustice; that other heroes were less like friends and more like passing colleagues. Then I joined the Protectors, and they reminded me that friendship and teamwork makes us stronger. I owe all of them for that." - The Peacemaker
"I never assumed that I'd be working with such a large and impressive team as the Protectors...much less being a Field Leader of them. That said, I could not ask for a better group of people to work with. Everyone has something they bring to the team and as a whole we're downright unstoppable. I know I can trust each and every one of them to do the right thing and be at my back when we're out on the field." - Razira
"It's nice, y'know? Like, being part of a team and stuff. I mean, everyone's still got their own goals but when we can all like, come together and just put all that aside... I'unno, man. That's kinda cool if you ask me." - Stonemason
"Well I don't think they have as much fun as we do, but they are packing serious heat. There aren't many Y chromosomes on that team, I hear; maybe I should put in for a transfer. I bet I could learn a lot from their 'experience'." - Kid Ballistic
"The world left convention behind decades ago. It's a hard lesson, but the Protectors have learned it better than most. My membership among them is a proud one. I look forward to a long career at their side." - Captain Adamant
"I'm still REALLY new to this group. I've butted heads with a couple of the more serious members, and befriended most of them. I'm not a hundred percent sure what my place in the team is yet, if there are things as places in this team. But I get a strong feeling of duty from everyone of them. We all act in different ways, but at the end of the day we make one of the strongest teams I've ever seen. I'm glad to be a part of them." - Imp (Angel Anderson)
"I am grateful for the chance to be a part of the Protectors. It is a great honor for me, and the von Schneider family and to pay homage to this partnership I vow to do everything in my power to ensure that the sun will always shine for this team. Figuratively speaking." - Fahrenheit
"Remember folks, always use Protectors! ...What do you mean that's inappropriate to use as our slogan? It's a valuable life lesson!" - Jinn
"If joining the Protectors has taught me one major lesson, it's that there's more to being a hero than proving you're capable of handling whatever the world throws at you. It's advice like that... that really makes me want to push myself to do things this team can be proud of!" - Atomac