IRun Man
From PRIMUS Database
The author of this article has marked this as a creative work, and would prefer that other users not edit it. Please respect this, and unless repairing a typo, spelling, or other minor technical error, think of this page as read-only.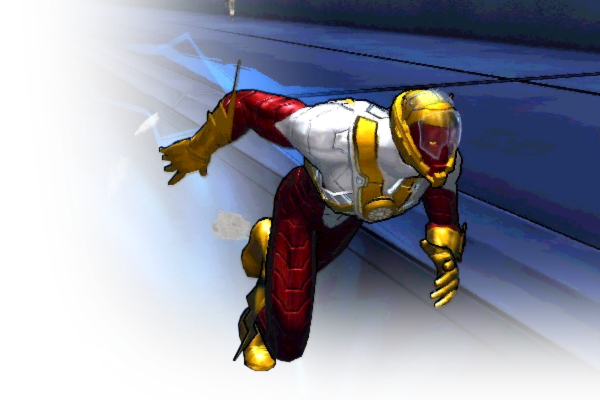 Left paralyzed from the waist down by an explosion caused by industrial espionage, Inventor Ron Hammond fashioned a prosthetic harness intended to return his ability to walk. His initial calculations were somewhat off base and he found he could not only walk but run at exceptional speed. Creating an armored costume around his harness, Ron became iRun Man.

Ronald Hammond, owner of Hammond Modular Technologies, Inventor and semi professional Athlete was working to create more streamlined prostheses to help accident victims when he himself was injured as a result of an explosion.
While visiting a friend's electronics plant to discuss manufacturing of a new module, a large assembly machine exploded catching both men in the blast. Ron's body mainly shielded his friend who escaped with minor cuts and bruises. Ron however suffered lower spine and leg trauma and was left unable to walk. As he struggled to come to terms with his changed circumstances, Ron dedicated all his time and effort on his inventions burying himself in his work in the hope that some day they would return him to his feet; and perhaps even back onto the running track. Several month's later he learned of the death of his friend in another explosion. Despite the similarities to Ron's experience the police deemed it an accident. Deciding to investigate, Ron discovered evidence that VIPER had been involved in both explosions and passed this information on to the police.
Finally completing work on his prostheses, Ron began testing them on himself and found that not only was he able to walk again, but was also able to run once more. "I can run, man! I can run!" he exclaimed joyfully. As he continued to run, he found that he could move with much greater speed than he expected - the micro motors of his prosthetics were providing much greater strength to his legs than he had intended. Still feeling that VIPER had to pay for his accident and for the death of his friend Ron decided that they should all be brought to justice, and following the example of some of Millennium City's greatest heroes Ron fashioned his now functioning prostheses into a lightweight body suit together with a mask to protect his identity. As well as enhancing his strength, the special motors in the legs suit allowed Ron to run at incredible speeds. Having an odd sense of humor Ron decided to take the name iRun Man for his costumed identity.


COMMENTS & IMPRESSIONS
---
If you have a connection with or an anecdote about IRun Man, please leave a comment below.
(Note: Seperate comments with a <hr> tag)
---
Post a Comment
---
CommentBox

created by

@Maekada

iRUN MAN
Biographical:
| | |
| --- | --- |
| Name: | Ronald Hammond |
| Aliases: | Ron |
| Species: | Human |
| Nationality: | American |
| Ethnicity: | Caucasian |
| Marital: | Single |
| Relatives: | Confidential |
| Occupation: | Inventor/Entrepenuer |
| Base: | Millennium City |
Powers & Abilities:
| | |
| --- | --- |
| Powers: | Confidential |
| Abilities: | Confidential |
| Equipment: | Confidential |
Attributes
Personal
Strength:
Speed:
Agility:
Durability:
Powers / Damage
Physical:
Mental:
Technological:
Environmental:
Magical:
Supernatural: