Ebony
From PRIMUS Database
The author of this article has marked this as a creative work, and would prefer that other users not edit it. Please respect this, and unless repairing a typo, spelling, or other minor technical error, think of this page as read-only.
Ebony
Biographical:
Name:
Hatshepsut
Aliases:
Hatshepsowe,
Maatkare
(Daughter of Re)
Species:
Human
Nationality:

Egyptian

Ethnicity:
African
Marital:
Widowed
Relatives:
Confidential
Occupation:
Confidential
Base:
Confidential
Powers & Abilities:
| | |
| --- | --- |
| Powers: | Confidential |
| Abilities: | Confidential |
| Equipment: | S.T.A.S.H. |
Attributes
Personal
Strength:
Speed:
Agility:
Durability:
Powers / Damage
Physical:
Mental:
Technological:
Environmental:
Magical:
Supernatural: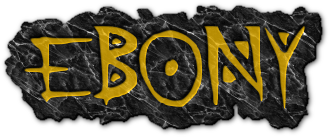 Resurrected following her murder, Former Egyptian Pharaoh Maatkare (Daughter of Re) struggles to find her way in the modern world.

Born in 1503 BCE, Maatkare was the widow of Thutmosis II and was Egyptian Pharaoh during the 18th Dynasty (~1472-1458 BCE). History notes her sudden disappearance (presumed murder) and her step son ordering the destruction of her images and mentions of her rule upon his own rise to Pharaoh.
Unknown to historians or the new Pharoah, Maatkare's organs were removed from their canopic jars and placed within a carved wooden effigy by loyal priests. This effigy was hidden deep within the temple at Deir el-Bahri near Thebes where it survived untouched until discovered and brought back to England by a late 18th Century explorer.
While being moved to the explorer's country estate, the statue was stolen and inadvertantly brought to life by an old gypsy woman. Finding herself in a strange land with no memory of how she came to be there Maatkare joined the gypsies. Her natural abilities soon elevated her to leadership of the group and she became a notorious highwaywoman. Maatkare eventually fled to the American West continuing her criminal career but an incident with an Apache shaman caused her to revert to a statue.
Reawakened early in the 20th century in Prussia, she was indoctrinated into the imperial guard where she remained during WW1. Escaping the control of the guard, Maatkare went underground as the vigilante Ebony, ranging across '20s and '30s Europe before joining the Russian Black Guard at the onset of WW2. The Black Guard were extraordinary people formed into a team to protect the Russian front from German incursions. It was while with the Black Guard that Ebony first encountered
Brigadier Steel
and
Pendragon
.
In the 50s Ebony returned to the USA and continued to work for the cause of good, assisting local authorities to keep the peace against the rising tide of super powered villains. She continued this through the 60s, 70s and 80s. Shortly before the destruction of Detroit, Ebony had been approached by
Madame X
to join the latest iteration of
VALIANT
. And so Maatkare found herself once more back in London for the first time in several centuries. To her surprise she also discovered that one of her "new" teammates was
Pendragon
who had actually been posing as her own granddaughter up until that point.
During her time with VALIANT Ebony managed to obtain an ancient ebon blade and axe, both of which she still uses to this day.

S.T.A.S.H. (Subspace Transportation And Storage Handler): Created by Professor Zack Zapperoni, this small device creates a subspace pocket into which large items can be stored and retrieved. Prior to her time in S.H.A.F.T, Ebony simply carried an appropriate weapon now she uses the S.T.A.S.H.

More Coming Soon...



COMMENTS & IMPRESSIONS
---
If you have a connection with or an anecdote about Ebony, please leave a comment below.
(Note: Seperate comments with a <hr> tag)
---
"It was certainly a warming sight on my optic sensors when I again saw my old friend Maatkare after so many years." - Brigadier Steel
---
Post a Comment
---
CommentBox

created by

@Maekada