Circle of Justice
From PRIMUS Database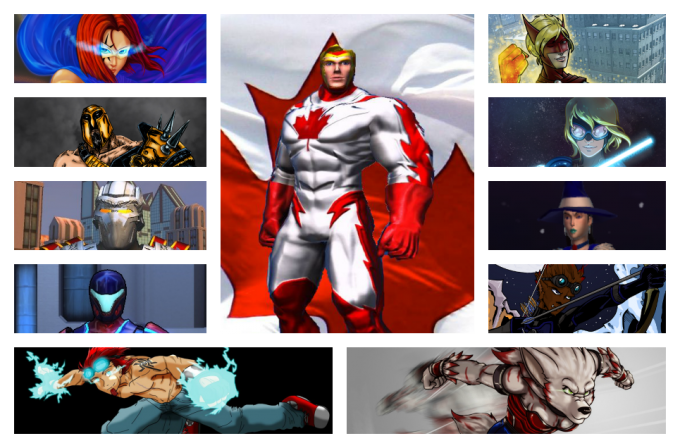 Leader:
Base of Operations:
Millennium City
Concept:
Super humans that deal with threats no one can handle alone
Founded:
2010
Founder:
Thundrax
Website:
N/A
Members:
Varies
The Circle of Justice is a JLA-style alliance of big-name heroes facing big-name threats. The Circle of Justice is NOT a super group, but an informal alliance of roleplayers who get together occasionally to play Justice League style epic adventures. Heroes do not need to leave their super groups in order to participate or call themselves a member. The Circle of Justice operates under the CORP banner, and most members are CORP players, but it is open to any RPer who's willing to buy into the premise and take it seriously (Astron is an example of someone who usually doesn't play with CORP but who frequently joins).
If, universe aside, your character would not look out of place on the Bronze Age-era Avengers or the current Justice League of America comic books, he or she would be a good member of the Circle of Justice. If the character would be a better fit in the Authority or in a Vertigo book, chances are that hero wouldn't be a good fit for COJ.
The guidelines for the get together are:
1. You're playing a big gun. High level main characters are preferred. Bring out your marquee characters, not your latest alt.
2. The tone is Bronze Age/post-Iron modern age. A campaign shouldn't try to be all things to all players.
It's not all "lightness and puppies," but casual killers are not welcome. It's okay for a few members to be "pragmatic" — conflict adds spice — but the tone of the team is heroic and generally "killing is a big deal." However, sometimes the villains are very gruesome, particularly in supernatural/horror scenarios.
3. Characters need to be able to access all zones, so the RP will be limited by as few environment restrictions as possible.
4. Some familiarity with game lore is nice, as the COJ runs try to use characters and organizations present in the PnP game that have not yet made it into Champions Online.
5. Things happen on a big scale, and sometimes a willing suspension of disbelief is required (the adventure where Invictus changed American symbols and Zorasto cast an illusion that affected everyone in Millennium are two such examples). The GM will do his utmost to return the campaign to a usable status quo by the end of the adventure. (which also means you need some tolerance for the occasional pushing of the reset button).
The lineup of the team varies: to date, no member has been available for every session.
RP combat in the COJ is usually text based. Some conflicts may be solved by PvP or by a PvE attack against an Open Mission boss (who may be a surrogate for some other villain), but the vast majority of combats in COJ will be text-based.
Combat Turns
Groups are usually divided into groups of three. On their turn, any one of that group may write their turns. When all three have gone (or when it becomes really clear one of those three is AFK), the next group gets their attack.
In addition, if a villain launches an attack against you, you get an immediate response, except in special circumstances.
You can insert a short line of dialogue at any time, where appropriate. COJ is not heavy RP: OOC remarks are fine, if labelled as such. However, if the GM asks you to get back to IC, please do.
If the story features mobs of agents or minions, special Minion rules may be enforced. If they are, your hero may automatically defeat one group of minions with a narrative attack.
Most COJ runs are episodic, but we have had an ongoing storyline throughout the series.
Issue 1: Ice and Stars
Issue 2: I'm on a Boat
Issue 3: Destruga Rising
Issue 4: Secrets of Revenger!
Issue 5: The Song Remains the Same
Issue 6: Destroyer Legacy
Issue 7: Heavy Metal Overture
Issue 8: Time of Dark Champions
Issue 9: Invictus Day
"Book of the Empress" Special Issue: All is V'Hanity
Issue 10: Terrible Swift Sword
Issue 11: The Borealis Effect
Issue 12: Guns! Guns! Guns!
Issue 13: The Price We Pay
CHALLENGE OF THE WARMONGER LIMITED SERIES
Issue 1: Spear of Influence, starring the Ultimate Guardians
Issue 2: Laying Down the Gauntlet, starring the Sentinel Squadron
Issue 3: Maces and Monsters, starring the Silver Age Sentinels
Issue 14: Vanguard
Issue 15: Everybody Talks About World War 3, But Nobody Does Nothin' About It!
Issue 16: Boreal Summer
Issue 17: The Beginning Place, Part 1
HAVE A CHARACTER TO ADD? PLEASE LIST THEM, THEIR POWERS AND CIRCLE OF JUSTICE APPEARANCES BELOW!
Thundrax: Powers: Super-strength, Flight, Leadership. Issues: 1, 2, 3, 4, 5, 6, 7, 8, 9, Book of the Empress Special, 11, 12
Anarchy: Powers: Vril-Ya Physiology. Issues: 17
Arc Thunder: Powers: Regeneration, Electrokinetics. Issues: 3, 4, 5
Artifist: Powers:High Magic, Psionics. Issues: 16
Astron: Powers: Super Strength, Super Speed, Flight, Invulnerability, Energy Projection. Issues: 6, 7, Book of the Empress Special, 10
Azunai: Powers: Super Strength, Invulnerability, Super Jump. Issues: 3
Blue Bruiser: Powers: Super-Constitution, Impressive Strength. Issues: 1, 7, 8
Canadian Iron: Powers: Invulnerability, Super Strength, Flight. Issues: 9, Book of the Empress Special
Chivalry: Powers: Powered armor, Invulnerability, Super Strength, Jet Boots. Issues: 1, 3, 8, 10
Cosmic Glory. Powers: Super Strength, Flames of Hope, Invulnerability. Issues: 5, 8, 9, 13, 14, 15
Eldritch: Powers: Sorcery, Science, Dimensional Rifts. Issues: Book of the Empress Special
Elena Hall: Powers: Storms, Chaos & Emotion, Dimensional Travel. Issues: Challenge of the Warmonger Limited Series Issue 3
Emissary: Powers: Super-strength, Flight, Energy Manipulation, Invulnerability. Issues: 4, 6
Ice-Heart: Powers: Cryokinetics, Super-Sorcery. Issues: 4, 5, 9
Ironbreaker: Powers: Electrokinetics, technopathy. Issues: 1, 2, 3, 4, 5, 6
Keioseth: Powers: Electrokinetics, Firearms, Minor Psychic Abilities. Issues: 1, 4, 8, 9, "Book of the Empress" Special, 11, 12
Lightbrand: Powers: Light Manipulation/Projection, Divine Channeling, Flight. Issues: 11, 12, 13
Peacemaker: Powers: Power armor, Telekinesis, Telepathy, Super intelligence, Flight. Issues: 6, 9, Book of the Empress Special, 11, 13, 15
Razira: Powers: Fire and Ice Manipulation, Flight. Issues: 8, 14
Real Soviet Damage: Powers: Super Strength, Super Endurance, Super Constitution, Wrestling.Issues: Challenge of the Warmonger Issue 1
Sparrowhawk: Powers: Enhanced Physical & Mental Traits, Polymath, Master Martial Artist. Issues: 14, Challenge of the Warmonger Issue 3
Sunspot: Powers: Archery, Acrobatics, Minor Precognition. Issues: 11, 12
Throttlerocket: Powers: Superhuman speed, Regeneration.Issues: 11
Tomonari: Powers: Bard Magic, Tarot Card Fighting, Emotional Empathy, Inhuman Speed, Some Shaman Magic. Issues: 7, 8
Trouble Maker: Powers: Powered Armor (Superhuman Strength/Speed/Agility/Durability), Ki Manipulation.Issues: 13
Vagabond: Powers: Flight, Super strength, Energy channeling, Aquatic adaptation.Issues: 7, Book of the Empress Special
Wolfgirl: Powers: Enhanced senses, Lycanthropic transformation, Regeneration, Archery. Issues: 1, 8, 11, 12
This is where edited versions of the transcripts of some of our adventures can be found.