Plumb
From PRIMUS Database

Affiliations
Super Group
Rank
Recruit
· Other Affiliations ·
Identity
Real Name
Plumb
Aliases
Plumb
Birthdate
N/A
Birthplace
Millennium City
Citizenship
None
Residence
New Pelham
Headquarters
New Pelham
Occupation
Plumber, Mechano-shaman
Legal Status
None
Marital Status
Unknown
· Known Relatives ·
Unknown
Physical Traits
Species
Mutant
Sub-Type
Amphibious-related
Manufacturer
N/A
Model
N/A
Ethnicity
Gender
Female
Apparent Age
17
Height
5'5"
Weight
Body Type
Slim
Hair
Purple
Eyes
Glowing Yellow
Skin
Green
· Distinguishing Features ·
Webbed fingers and fins on her back. Ornamental tattoos on her legs
Powers & Abilities
· Known Powers ·
Regeneration, Technopathy, Mechanical Manipulation
· Equipment ·
Tool belt
· Other Abilities ·
Plumbing, mechanics, welding, engineering, maintenance
Background
Plumb was one of the first wave of new children born in New Pelham. She has heard stories of the Old Pelham Lands and rivalries with the Bowery Brood and South Ferry Fishers while growing up. As a young mutant she possessed great strength, which would serve her well as joining the maintenance crew of New Pelham. When she was old enough, her latent mutant abilities of Technopathy manifested.
New Pelham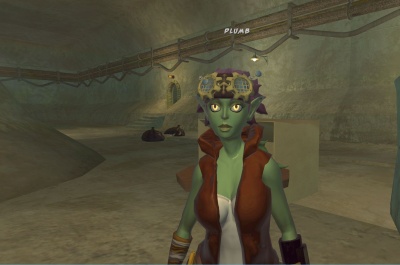 The Pelham Clan and New Pelham are descendants of amphibious and reptilian mutant tribes living under New York City. The mutants date back to at least the late 1800s when they were part of the New York City sewer system, and then migrated into the underworld of the Subway transit system in the early 1900s. The mutants call themselves "The Brood", and no matter which tribe they are from, they all seem to share a common bond. In the late 1980s, territorial issues arose underground, and the Pelham Clan took the opportunity to migrate west to live under Detroit after the Battle of Detroit in 1992. The rebuilding opportunities above, along with an extensive underground infrastructure gave the Pelham Clan an opportunity to prosper. Scavenged materials from construction sites above and from the aftermath of the battle have given New Pelham a surprisingly high level of technology for their underground lair.
New Pelham is a work in progress, with nearly three dozen mutants living in harmony below the surface. Several homeless and curious humans also live in New Pelham, though they are sworn to secrecy on its location and vetted by Clan members. The underground city is modest, comprising nearly a square kilometer of piping, housing, tunnels, and living area.
Pelham Culture
Life in New Pelham consists of film, music, dancing, construction and maintenance. All mutants are well versed in maintaining their small city. Stolen cable feeds entertainment to the community and even rudimentary Network access is available.
Since they rarely venture up top, there is a lot of time for watching movies, TV, relaxing and enjoying life free of worries. Many of the mutants speak in phrases made up of pop culture references. Obscure and witty references to any film, music, or TV line can help a mutants status in the community.
Community is organized with a Clan Council of five elders:
the eldest of the community
head of the maintenance crew
head of the security team
head of urban agriculture
head of the scavenging crew
Pelham Careers
A mutant's team is generally determined by what powers they have genetically inherited from the pool of the original mutants.
Security: The security team is responsible for the defense of the entire community, including scouting, intelligence, defense installations, and disaster management. Crew powers are generally related to super strength, combat prowess, regeneration, and a wide variety of other mutant powers. This is the easiest crew to get into, simply because of the lack of specialization of powers. Security is taken very seriously in the community are dealt with force, or by members with psionic powers to erase their memories of visiting the area.
Maintenance: The maintenance crew is responsible for the entire maintenance of the Pelham lands. This includes janitorial work, repair work, infrastructure upgrades, and inventory. Crew members generally have powers related to repair, cleaning or technopathy. Human crew members were likely mechanics or janitors before joining.
Urban Agriculture: If it can't be scavenged, it can be grown! This is a very light work crew that helps tend to the community's mushroom, vegetable and root gardens. The crew also tends to the cuisine and mealtimes for community member, as well as any alcohol and beverages that can be made from the harvests. Some of the members of this crew have plant-based powers, which they use to grow better crops.
Scavenging Crew: This crew is one of the few that operates mostly topside. All members are required to have stealth abilities, and they spend their times foraging for all items that can be brought back to the community. Sometimes, members may be tasked for scouting and gathering intelligence in addition to their normal activities.
Plumb's Life
Plumb is a young member of the New Pelham Clan under Millennium City. More to come soon!
The Progeny
In 2017, Plumb was performing tunnel maintenance when she heard some noises down in the sewer. To her surprise, a villain magician came trouncing through, followed by Silver Scar, Starlet, Lash, and Faith. The magician escaped, but this was Plumb's first contact with other teens her age from the upside world. Curious and quite happy at this chance encounter, she asked if she could come up and learn and ally with the team.
Soon after, Plumb became a member of The Progeny. She has been trying to learn more from her new teammates and offering her abilities as a mechanic and gadgeteer to the group. She's also totally enamoured with Miss Pussycakes.
Gallery