Electre
From PRIMUS Database

Sophie Le Saux, better known as Electre, is a French super heroine.
She is a member of the IPCA, UNITY affiliated agency.
Electre is known in the United States and Canada for having various feud with Pasquale Schar, Typha or SuperKikoo.
She has a sister, Nadia, who also is a super heroine.
Fictional character biography
Sophie was born in Paris, France. She is the second child of a middle class teachers couple. During her childhood, she was a very active young girl, making life alongside her quite difficult. Diagnosed with hyperactivity syndrome, her scholarship was pretty bad as teachers couldn't refrain her desire of movement. She finally managed to find in athletics a way to channel her tremendous amount of energy. As a matter of fact, she revealed herself quite good in the sprint discipline and even held for a certain amount of time the 100 meters junior national record. during her high school years, she had a very cold feud with her sister, feud that ended only 3 years later when she moved to Brittany and had to share the same apartment with her. In 2003, she started journalism studies and in 2006 she gained superpowers after she and her friends found an old magical artifact. Her studies completed, she worked for a medium size newspaper in Paris, before flying across Atlantic Ocean to Millennium City where took the alias of Electre and worked for local company WCOC.
Description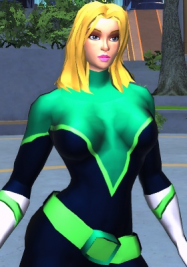 Overall appearance
Electre is a 5 foot 9 inches woman (1,74 meters) blond-haired woman with brown eyes and athletic build looking around her prime twenties. As she was given superpowers, and like so many heroes before her, She has physically changed, becoming more athletic and also growing in size. Her body contains 1 to 2 times more cells than a normal human body, depending on parts, allowing her to be physically stronger than the average human.
Powers and abilities
Electrical Projections : Electre's body possesses the ability to create electromagnetic energy that she can channel into powerful lightning arcs.
Superhuman Strength : As her cells are smaller but more dense, they proved to be more receptive to each other and to stimuli, providing her muscles a superhuman strength. It is estimated that she can lift about 15 tons as she has proved to be able to lift armored cars.
Martial Artist : Being aware that she has come into a dangerous city when she arrived in Millennium City, Electre first decision was to take self-defense class on a daily basis. Her strength and speed quickly allowed her to master karate, which she now uses in fight.
Speed and Agility : Empowered with electromagnetic energy, her body possesses the ability to flex his muscles much faster, allowing Electre to run and react faster.
Flying : Her electromagnetic abilities recently allowed Electre to fly
Relationships
Family and close friends
Enemies