Hummingbird
From PRIMUS Database
The author of this article has marked this as a creative work, and would prefer that other users not edit it. Please respect this, and unless repairing a typo, spelling, or other minor technical error, think of this page as read-only.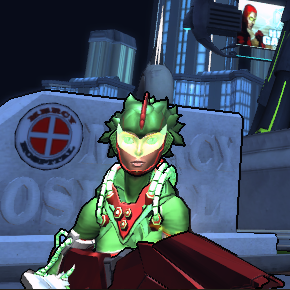 Emily Joyce
Real Name
Aliases
Hummingbird
Female
Gender
Human
Species
CONFIDENTIAL
Ethnicity
CONFIDENTIAL
Birthplace
Millennium City
Home Base
Relatives
Characteristics
CONFIDENTIAL
Age
CONFIDENTIAL
Height
CONFIDENTIAL
Weight
Green
Eyes
Red
Hair
Fair
Complexion
Petite
Physical Build
Physical Features
Fame
| ██ | ██ | ██ | ██ | ██ | ██ | ██ | ██ | ██ |
| --- | --- | --- | --- | --- | --- | --- | --- | --- |
National
Alignment
| | | |
| --- | --- | --- |
| LG | LN | LE |
| NG | TN | NE |
| CG | CN | CE |
CONFIDENTIAL
Identity
CONFIDENTIAL
Years Active

Citizenship
Doctor
Occupation
Doctorate in Medical Science & Mechanical Engineering
Education
Married
Marital Status
Equipment & Paraphernalia
Nano-tech Suit
In-Charcter Information
Origin Story
"Rae and her crazy ideas... Like, I completely understand she inherited the identity of Eagle from her father the previous Eagle, but I still don't even know why we were in that facility. The place had been abandoned for years, and most of the security drones were in a state of disrepair. However, I'll never forget what we found in there that day. Or the monstrosity that attacked us in there.
"Deep in the facility we found a lab with some strange alien tech that I had never seen before, and I've seen my fair share of alien tech. In the center there was a capsule containing what looked like a holographic girl in stasis. Curiosity got the better of me and I woke her. How was I supposed to know that what was keeping her inert was also holding back that thing. *she shivers*
"It was as if the computer systems of the entire facility were one giant being. I don't remember much of what happened next. I know something big hit me and sent me flying across the room. The last thing I remember before blacking out was a horrific mechanical face. I don't know how long I was out for, but the next thing I knew Rae was yelling at me to run, that the facility was collapsing.
"I don't know why, but even with the facility falling apart around me I felt drawn to a suit that was hanging in a broken locker across the room. I know Rae was still yelling at me to get out, but I couldn't register anything other than that I absolutely had to take the suit with me. When I got to the suit, the section of roof that was above me collapsed. At the time I thought I was done, I saw a bright light and I was absolutely certain that was the end for me. But a few moments later I saw Rae's hand reaching through the light and grabbing my arm... Only, something was off... I don't remember putting the suit on, but there it was on my body...
"The monstrosity was still wrecking havoc on the facility bringing walls down all around us. But even after what had just transpired I still felt compelled to do one last thing. The capsule in the center with the holographic girl. I don't know what it was about her, but I just knew that we couldn't leave without rescuing her. I don't know why, but I just knew she needed to be freed from this place. What we first thought was just a simple VI system turned out to be far far more than that. I've never seen an AI like her before, and her abilities... If you thought this suit was impressive you'd be in for a world of a surprise from what that holographic girl can do.
"With her help we got out of the facility before it completely collapsed on us. The suit was tattered in places, but it wasn't anything we couldn't fix. The hologram girl introduced herself as CORTEX and I took up the name Hummingbird."
History and Current Events
Appearance
Personality
Abilities
Superhuman Powers
Skills
Equipment
Strengths and Weaknesses
Relationships
Allies
Enemies
Neutral
Character Opinions/Impressions
Other Facts and Trivia
Out-Of-Character Information
Roleplay Hooks
Tropes
==Creator's Notes==