Eagle
From PRIMUS Database
The author of this article has marked this as a creative work, and would prefer that other users not edit it. Please respect this, and unless repairing a typo, spelling, or other minor technical error, think of this page as read-only.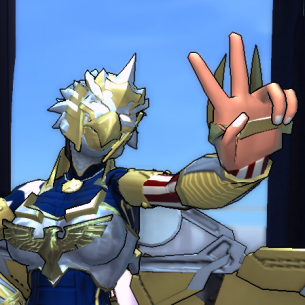 Rae Joyce
Real Name
Aliases
Eagle
Female
Gender
Human
Species
Caucasian
Ethnicity
United States
Birthplace
Millennium City
Home Base
Relatives
Hummingbird (Wife - Emily Joyce)
Eagle (Grandfather - Ray Joyce Sr., Deceased)
Eagle (Father - Ray Joyce Jr., Retired)
Characteristics
Age
Height
Weight
Eyes
Brown
Hair
Complexion
Physical Build
Physical Features
Fame
| ██ | ██ | ██ | ██ | ██ | ██ | ██ | ██ | ██ |
| --- | --- | --- | --- | --- | --- | --- | --- | --- |
National
Alignment
| | | |
| --- | --- | --- |
| LG | LN | LE |
| NG | TN | NE |
| CG | CN | CE |
CONFIDENTIAL
Identity
Years Active

Citizenship
Occupation
Education
Married
Marital Status
Known Powers & Abilities
None
Equipment & Paraphernalia
Wing Suit
Grenades
In-Charcter Information
Origin Story
"My grandfather was the original Eagle back during World War II. His suit wasn't anywhere near as sophisticated as mine, in fact his didn't even have wings. He passed the title down to his my father who was the first Eagle recognized as a national superhero. And now I'm the third Eagle, and the first female Eagle. You could say heroics run in the family. *giggles* Even my adorable wife Emily is a heroine, Hummingbird. I wouldn't be the hero I am today if it wasn't for her even.
"As I mentioned, my grandfather's suit didn't have wings, and well, my father's suit wasn't much better. Sure he added wings to his suit, but they didn't allow him to fly, at least my grandfather used an early jet pack when he was the Eagle. My father just ran around dressed like a bird. I'll admit, I was a little embarrassed by him...
"Anyways, when I inherited the title I knew I had to make a suit that would bring honor to the name Eagle. Emily here was always tinkering with alien technologies, I figured if anyone could help me out it would be her. Sure enough, after about a dozen prototypes we put together this amazing wing pack. Of course, I'm not as skilled with a rifle as my grandfather was nor as proficient in hand-to-hand combat as my father... but I am good at making small gadgets. So I built a series of grenade gadgets. Some of which Emily helped with.
"My first day as Eagle, I wanted to do something memorable. I had heard about this abandoned military facility that had been taken over by some cyber villain several years back who was never caught, and I figured I'd take a look at the place and bring justice to the villain behind the attack. And Emily wanted to test out some rifle she had made with some of that alien tech she's always messing with. I figured there was no harm in taking her with me, besides I knew she could hold her own if something were to happen. Heck, she was better equipped for a fight than I was.
"Neither of us were ready for what was in that facility. We found some alien tech, and like a kid in a candy store Emily went to town checking everything out. But when she activated the center console to turn on the VI we found in there, something woke. Something massive and powerful. The entire facility started to come to life, and I don't just mean the machinery turned on. No, the facility actually started to come to life, like actually living. A giant mass of cables ripped out of the ground and tossed Emily across the lab. Within seconds cables, wires, and machines from all over the lab had moved and merged into one giant mechanical monstrosity.
"I fought the thing as best I could, but the facility was starting to collapse around us. The only thing I could think of at that moment was Emily, laying unconscious across the room. We had to get out of there, I know I wanted to do something memorable for my first day as a hero, but this... this was not what I was expecting. I managed to rouse her and told her we had to get out of there, but she seemed like she was in some sort of trance. No matter what I did she just kept walking across the lab towards a row of broken lockers. My heart almost stopped when I saw the ceiling collapse on top of her. My first day as a hero and all I could think was that I had just got my wife killed.
"I didn't want to accept it, I couldn't accept it, she had to still be alive in there. I began to dig her out of the rubble all the while the facility was still falling apart all around me. I didn't care anymore. Either I was going to rescue her or I was going to be buried there with her. I was so happy to find her still alive and breathing under all that rubble. I don't know when it happened, but at some point between when she opened the locker and when I got to her she had put on a suit that I can only assume was inside that locker.
"I tried again to tell her we had to get out of there but she kept repeating 'We have to save her!' and worked her way through the rubble to the very same console that caused this whole mess. At the time I thought she was crazy, but now looking back on it, I don't think we would have ever made it out of there if she hadn't done it. That AI girl really was something else, she created a shield and helped us get out of the place alive. I can only hope the monstrosity is still buried in the ruins of the place. Shortly after the AI introduced herself to us as CORTEX and Emily became the heroine Hummingbird."
History and Current Events
Appearance
Personality
Abilities
Superhuman Powers
Skills
Equipment
Wing Suit
Eagle is outfitted with a one of a kind jet propelled wing suit. This suit is capable of reaching mach 1 and provides her with protection against the crushing gravitational forces of such speeds.
Grenades
Rae has never been to good at shooting nor an proficiency with melee combat. She does however have an extenive understanding of the interworkings of Grenades, and has created an arsenal of various differnt types of grenades for her use.
Fragmentation Grenade
The most standard grenadde in her arsenal, with a casing made of rubber rather than metal, these grenades are more of a concussive force than a leathal force.
Cryo Grenade
Specially designed grenades that release a chemical gas compound that when mixed will quickly freeze everyhing around it.
Entanglement Grenade
As the name implies, these grenades are designed to entangle nearby targets in a durable mesh netting.
Bolas
Sometimes it's just more effective to bind targets with a set of Bolas than to use any of her grenades.
Thermal Mines
Incendiary ordanances set to a proximity trigger, for when she needs to cover a lot of space in short amount of time.
Smoke Grenade
Standard smoke grenades meant to temorarily blind enemies.
Impulse Generator
A rather large device designed to drag anything that is not bolted down towards it.
Scatter-Shot Pistol
A rather large pistol loaded with rubber scatter-shot rounds to commpensate for her poor aim.
Strengths and Weaknesses
Relationships
Allies
Enemies
Neutral
Character Opinions/Impressions
Other Facts and Trivia
Out-Of-Character Information
Roleplay Hooks
Tropes
==Creator's Notes==