Synaptic
From PRIMUS Database
The author of this article has marked this as a creative work, and would prefer that other users not edit it. Please respect this, and unless repairing a typo, spelling, or other minor technical error, think of this page as read-only.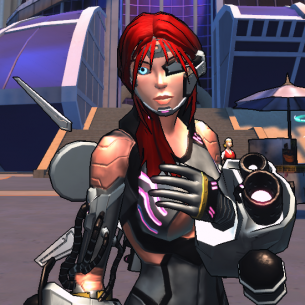 "On the bright side, I have built-in wifi"
Alison Keen
Real Name
Aliases
Synaptic
Female
Gender
Cybernetic-Human
Species
Ethnicity
United States
Birthplace
Millennium City
Home Base
Relatives
Characteristics
23
Age
Height
Weight
Blue
Eyes
Scarlet
Hair
Fair
Complexion
Average
Physical Build
Physical Features
Cybernetic Body
Fame
| ██ | ██ | ██ | ██ | ██ | ██ | ██ | ██ | ██ |
| --- | --- | --- | --- | --- | --- | --- | --- | --- |
Unknown
Alignment
| | | |
| --- | --- | --- |
| LG | LN | LE |
| NG | TN | NE |
| CG | CN | CE |
Public
Identity
Years Active

Citizenship
Robotocist
Occupation
College
Education
Single
Marital Status
Known Powers & Abilities
Technopathy
Equipment & Paraphernalia
Wrist-Mounted Mini-rocket Launchers
Shoulder-mounted Mini-rocket Launcher
Jetpack w/Mini-rockets
In-Charcter Information
Origin Story
Alison Keen was an ordinary college student working on a degree in Robotic Engineering. Until she was abducted by ARGENT running experiments on those they suspected to have psionic abilities. These experiments ended with the subjects being augmented with a large amount of cybernetic parts and cerebral implants meant to reprogram them into psionic drones. Alison's abilities aided in her escape from ARGENT, but not before she too was augmented and implanted. After her escape she managed to get the implants removed with assistance and had a new body built to replace the augments she was given. Fearful of how her friends and family would react to her new body, she went into hiding, and was later found and recruited by PRIMUS. When a few of the PRIMUS engineers brought her the arsenal they intended to attach to her body, she immediately activated several of the weapon systems refusing to allow them to attach them directly to her. As a result the weapons were refitted into a new removable format. Alison now helps to protect Millenium City under the name Synaptic. She has even brought herself out of her reclusive state and can be seen wandering around the city as her orinary self, Alison Keen.
History and Current Events
Appearance
Personality
Abilities
Technopathy
Alison possesses a rare form of telepathy that allows her to communicate and control electronics. She uses this power to control her cybernetic body along with her PRIMUS issue weapon systems. She has even acquired control of a couple drone systems as well.
Equipment
Cybernetic Body
The vast majority of Alison's body has been replaced with cybernetics. Everything from her limbs to non-essetial organs have been replaced against her will. While this new body does give her strength, reflexes, and durability that far exceeds human limitations. It also has it's own set of drawbacks, the most notable of which being that she must regularly connect to a powersource to recharge her body. Additionally, her cybernetic body does not include a neural interlink, so he is only capable of controling her body through her technopathy. The lack of a neural interface was by choice after she escaped and had her body rebuilt. She doesn't want anything directly connected to her brain again.
Power Armor Munition Systems
PRIMUS issue munition systems for power armor. Initially intended to be a direct hard install on her cybernetic body after she was recruited. But after she triggered the systems remotely in the lab that decision was quickly overturned.
Strengths and Weaknesses
Relationships
Allies
Enemies
Neutral
Character Opinions/Impressions
Other Facts and Trivia
Out-Of-Character Information
Roleplay Hooks
Tropes
==Creator's Notes==