Serien
From PRIMUS Database
The author of this article has marked this as a creative work, and would prefer that other users not edit it. Please respect this, and unless repairing a typo, spelling, or other minor technical error, think of this page as read-only.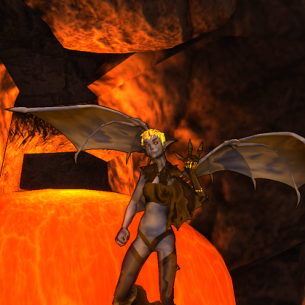 "I'm not small... Ya'll are just really big..."
Unknown
Real Name
Aliases
Serien
Female
Gender
Imp
Species
Ethnicity
Birthplace
Millennium City
Home Base
Relatives
Tundra (Twin Sister)
Characteristics
Age
1'9"
Height
2.2lbs
Weight
Orange
Eyes
Dark Red
Hair
Blue
Complexion
Petite
Physical Build
Physical Features
Pointed Ears
Wings
Spaded Tail
Mechanical Arm
Fame
| ██ | ██ | ██ | ██ | ██ | ██ | ██ | ██ | ██ |
| --- | --- | --- | --- | --- | --- | --- | --- | --- |
Recluse
Alignment
| | | |
| --- | --- | --- |
| LG | LN | LE |
| NG | TN | NE |
| CG | CN | CE |
Identity
Years Active
Citizenship
Occupation
Education
Marital Status
Known Powers & Abilities
Regeneration
Fire Magic
Equipment & Paraphernalia
Golem Arm
In-Charcter Information
Origin Story
"My first memories are of confusion and excruciating pain. I was surrounded by runes and a sorceress stood in front of me. I was terrified and confused, questions kept racing through my head. 'Who am I?' 'Where am I?' 'Why does my arm hurt so much? My arm! Where is it? What happened to my arm?' Amidst my panic, the sorceress kept repeating something I couldn't understand. I'm unsure if it was her chant or the pain from losing an arm, but it wasn't long before I passed out.
"When I awoke the sorceress was sitting beside me. When she spoke she addressed me as 'Serien', I don't know why but I immediately recognized it as my name, yet I can't help but feel like it isn't. She told me there was an accident in my summoning, the portal closed too early and took my arm with it. In her hand she clutched a small metal arm.
"I learned a lot from her in the time I spent with her. I felt like I had a place I belonged, she trusted me and relied on me. At Least, until that day...
"She summoned a second imp like me to assist her. I felt this immediate sense that I knew this new imp, like really knew her. We were connected some how. I thought having another like me would be a good thing. How could I have foreseen what was about to happen. The new imp, she attacked, she killed her. At that moment, I didn't care anymore, any connection I had to her before didn't matter. I knew I could never forgive her for what she had done. I chased her out, unable to bring myself to kill her.
"It was later after studying the sorceresses books that I learned who this other imp was to me. Why she felt so familiar to me. She was my other half, my twin sister. The sorceress had intended to call her Tundra, and so I too gave her that name. My studies also revealed to me a fact that had been kept from me all this time, the ritual used to summon us erases our memories of our world. A world I wish to some day return to. But first I must find and stop my sister."
History and Current Events
Appearance
Serien is a tiny blue imp. Her left arm was lost when the portal she was summoned through closed unepectantly. In it's place she has a small magic infused metal arm. She stands just under two foot tall and has a pair of small batlike wings and a short slinder tail tipped with a small puff of hair.
Personality
Abilities
Superhuman Powers
Regeneration
Serien possesses supernatural healing abilities, capable of regenerating from most injuries as fast as they occur. She is not however capable of regrowing lost limbs.
Fire Magic
Serien is adept at fire based magics.
Equipment
Her missing arm has been replaced with a small magic infused arm, similar in construction to a golems. Channeling magic through this arm however can have unexpected effects on the resulting spell.
Relationships
Allies
Enemies
Tundra
Serien's twin sister who upon being summoned into our world immediately struck out and killed the sorceress who summoned her. She, like Serien possesses no memories of her previous life before being summoned. While Serien possesses an aptitude for fire based magics, Tundra possesses an affinity for Ice based magics.
Anima
A powerful shaman who was once an enemy of the late Sorceress. With her gone, he now has set his eyes on Serien as she is the last remnant of her existance and the only thing between him and ancient relics she once safe guarded.
Neutral
Character Opinions/Impressions
Other Facts and Trivia
Out-Of-Character Information
Roleplay Hooks
Tropes
==Creator's Notes==