Pulse
From PRIMUS Database
The author of this article has marked this as a creative work, and would prefer that other users not edit it. Please respect this, and unless repairing a typo, spelling, or other minor technical error, think of this page as read-only.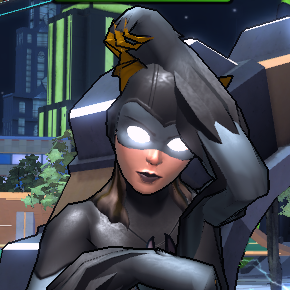 Heather Prowl
Real Name
Aliases
Pulse
Female
Gender
Catgirl
Species
Calico
Ethnicity
Earth 48
Birthplace
Millennium City
Home Base
Relatives
Phase (Mother - Katyline Prowl)
Characteristics
Age
Height
Weight
Green
Eyes
Brunette
Hair
Complexion
Physical Build
Physical Features
Cat Ears
Cat Tail
Cat Paws
Cat Eyes
Fame
| ██ | ██ | ██ | ██ | ██ | ██ | ██ | ██ | ██ |
| --- | --- | --- | --- | --- | --- | --- | --- | --- |
Local
Alignment
| | | |
| --- | --- | --- |
| LG | LN | LE |
| NG | TN | NE |
| CG | CN | CE |
Secret
Identity
Years Active
Citizenship
Occupation
Education
Single
Marital Status
Known Powers & Abilities
Vibration
Equipment & Paraphernalia
In-Charcter Information
Origin Story
"Where to start... where to start... Nyah. I guess I should start with where I'm from...
"I was born and raised in Millennium City, not this one though. My whole life I watched as my mother kept the city safe. On my earth, she was one of the most powerful heroes in the world. Her name was Phase. She never explained anything about her power to me, but I know she could teleport and phase through dimensions... Anyways, when I turned 17 she announced to the world that I would be joining her as her new sidekick and be trained to be a great hero just like her.
"Unfortunately, she went missing before any of that could happen. She was in a fight with one of the greatest villains our city had ever seen. No one really knows what happened exactly. One moment she was there, the next she was just gone. I can only imagine the headlines back home the day after I vanished now. 'Like mother like daughter, Pulse vanishes into thin air.' I'm sure the press had a field day with that. Who am I kidding, I probably didn't even get a headline... I was a failure of a hero back home... the last time I was in the paper, they were actually wishing for me to vanish... guess they got their wish... Nyah.
"I wonder if she vanished for the same reason I did... You see... I was also in the middle of a fight with a new villain. I was trying out a new trick I learned with my powers against him, and the next thing I knew I was standing here on a different Earth surrounded by tailless Humans with oddly shaped paws and ears. Nyah. Seriously, why do Humans look so different here? Nyah? From what I can tell our worlds are virtually identical... our histories are almost exactly the same. The only thing different is the people. You all look odd, the famous ones throughout history are different. The only oddity I found was your scientists think you evolved from monkeys, but that can't be right, everyone knows we evolved from cats. Even your ancient Egyptians revered them the same way ours did. So why don't you have a tail? Nyah? And why do your paws and ears look so odd? Nyah?
"Where was I again? Nyah? Oh that's right... my powers... it's so odd talking about them... on my Earth it was taboo to reveal details about your powers to anyone. But here it seems like everyone knows what everyone else can do... anyways, I um... I vibrate... oh my tail, nyah, that sounds dirty... I create vibrations in space, and I can vibrate myself through dimensions. It's a lot more useful than it sounds. By vibrating the space around my body at a certain frequency I can create a force field to protect myself from harm. If I modulate those frequencies I can create kinetic pulses through the air like invisible bullets. And more...
"This earth is so much different from mine. Heroes back home wore costumes, just like heroes here. Our real identities were known to everyone, but our powers were kept secret. Here, it's the exact opposite... everyone knows what your powers are, but identities are a secret here. It's just so odd... but refreshing at the same time... Nyah. even if I knew how to get back home, I'm not sure if I'd want to go back anymore... it's not like there's anything left for me back there anyways.
"Speaking of... I don't think I'm the only hero from my Earth on this Earth... at least, I think she's from my Earth... I've seen Shift back on my Earth. She was just as enigmatic there as she is here... popping up for a few moments, knocking out a powerful villain, and then vanishing again. No one knows who she is... but if she's able to pop between this world and mine, I'm sure she could probably help me get back home if I ever decided to return. Nyah."
History and Current Events
Appearance
Personality
Abilities
Superhuman Powers
Vibrations
Kinetic Pulse
By generating focused vibrations in the air around her, Pulse is capable of firing off powerful kinetic pulses.
Deflection Shield
Pulse can maintain an invisible barrier around her through vibrations that will deflect most attacks away from her.
Dimensional Rift
By generating vibrations in a region of space at a freuency that syncornizes with another parallel universe, she can open a rift between our universe and that universe. This rift can be used to traverse universes, but it is not recommended as she has no idea what universe she is connecting to when she uses her power in this manner.
Dimensional Synchronicity
Similar to her ability to open rifts into other universes she can also move entire bodies into other universe by vibrating them in syncronicity with another universe. Just like with her ability to open rifts, she is unaware of what universes exactly she is connecting to when she does this. This is the very same power she accidentally brought herself into our universe with.
Phase Shifting
Within each universe there are multiple sub-universes that function on a slightly differnt frequency than the visible universe. By vibrating her body in sync with one of these sub-universes she can phase herself into them, however, unlike crossing into a parallel universe she must maintain this vibrational frequency to remain in a sub-universe. Despite the strain to use, this ability does have it's uses. She can utilize phase shifting to pass through solid objects, render herself invisible, or even supercharge her kinetic pulses.
Skills
Equipment
Strengths and Weaknesses
Relationships
Allies
Enemies
Neutral
Character Opinions/Impressions
Other Facts and Trivia
Out-Of-Character Information
Roleplay Hooks
Tropes
==Creator's Notes==