Myriad (@Pandabutt)
From PRIMUS Database
The author of this article has marked this as a creative work, and would prefer that other users not edit it. Please respect this, and unless repairing a typo, spelling, or other minor technical error, think of this page as read-only.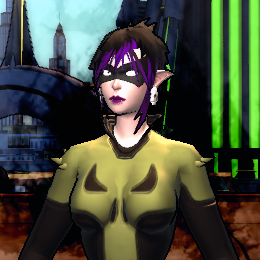 Lumina Shade
Real Name
Aliases
Myriad
Female
Gender
Mandaarian-Human
Species
Ethnicity
United States
Birthplace
Millennium City
Home Base
Relatives
Characteristics
Age
Height
Weight
Light Blue
Eyes
Dark Brown
Hair
Pale
Complexion
Athletic
Physical Build
Physical Features
Pointed Ears
Purple Highlights
Fame
| ██ | ██ | ██ | ██ | ██ | ██ | ██ | ██ | ██ |
| --- | --- | --- | --- | --- | --- | --- | --- | --- |
National
Alignment
| | | |
| --- | --- | --- |
| LG | LN | LE |
| NG | TN | NE |
| CG | CN | CE |
Secret
Identity
Years Active

Citizenship
Occupation
Education
Single
Marital Status
Known Powers & Abilities
Light Manipulation
Molecular Regeneration
Equipment & Paraphernalia
In-Charcter Information
Origin Story
History and Current Events
Appearance
Personality
Abilities
Light Manipulation
Myriad expresses a talent for controlling light around her.
Hard Light Constructs
By compressing and focusing light into a a dense plane she is capable of creating hard light constructs. She will often create a variety of myriad of light blades that she uses in combat with this ability. She has also been known to create shields and armor out of Hard Light at times.
Shadow Constructs
Simple understanding that darkness is only the result of the absence of light is all she needed to figure out that her power can create shadow constructs as well as light constructs. By voiding the light from a location she is able to create constructs of pure darkness. Of course these shadow constructs have no substance to them on their own, so she will often add small hard light constructs within her shadow constructs, small things such as hard light claws.
Invisibility
Similarly to how she creates shadow constructs, a little understanding of how sight is simply a reflection of light off a surface, she is capable of bending light around an object rendering it invisible to the eye. This is not perfect invisibility since bending light may create small distortions, but these distortions are easy to miss if you don't know to look for them.
Molecular Regeneration
Myriad can also regenerate from injuries at a molecular level. Any wounds she sustains will heal up almost instantaneously, she has even shown the capability to regenerate small limbs. She is uncertain as to the full extent of her regenerative ability and is unwilling to test her ability to grow back anything larger than a finger. She has expressed that while regenerating from cuts and bruises is a relatively painless process, the regrowth of body parts is excruciating.
Strengths and Weaknesses
Relationships
Allies
Enemies
Neutral
Character Opinions/Impressions
Other Facts and Trivia
Out-Of-Character Information
Roleplay Hooks
Tropes
==Creator's Notes==