Kyrin
From PRIMUS Database
The author of this article has marked this as a creative work, and would prefer that other users not edit it. Please respect this, and unless repairing a typo, spelling, or other minor technical error, think of this page as read-only.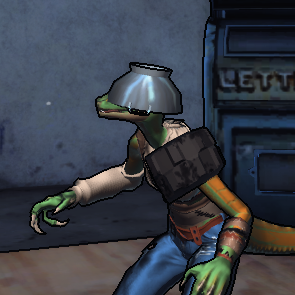 "No leezerds heres... I's a hoomans like youses"
Kyrin
Real Name
Aliases
Female
Gender
Lizard
Species
Ethnicity
Birthplace
Millennium City
Home Base
Relatives
Characteristics
Age
Height
Weight
Eyes
Hair
Green
Complexion
Physical Build
Physical Features
Fame
| ██ | ██ | ██ | ██ | ██ | ██ | ██ | ██ | ██ |
| --- | --- | --- | --- | --- | --- | --- | --- | --- |
Recluse
Alignment
Identity
Years Active
Citizenship
Occupation
Education
Marital Status
Equipment & Paraphernalia
In-Charcter Information
Origin Story
History and Current Events
Appearance
Personality
Abilities
Superhuman Powers
Adaptive Evolution
Kyrin was genetically altered to have the ability to adapt her genetic structure to any environment or condition. She can even switch between being warm and cold blooded as needed to survive in harsh climates. However, her abilities are limited to the genetic makup of any reptilian or amphibian species native to Earth. This ability primarily manifests in the form of poisons.
Toxic Skin
Through her Adaptive Evolution, Kyrin is capable of secreting various types of poisons across the surface of her body.
=Toxic Claws
Similarly her claws have adapted to have a hollow structure similar to a snakes fangs through which she can inject various types of poisons into her enemies.
Venomous Breath
Kyrin is capable of creating a toxic spray which she can breath at an enemy to quickly incapacitate them.
Skills
Equipment
Strengths and Weaknesses
Relationships
Allies
Enemies
Neutral
Character Opinions/Impressions
Other Facts and Trivia
Out-Of-Character Information
Roleplay Hooks
Tropes
==Creator's Notes==