House of Thorns
From PRIMUS Database
The House of Thorns
Bringing class to kink while saving the world
CURRENTLY UNDER RENOVATION
Leader(s):
Lady Lilith and a council of officers
Base of Operations:
A sizeable manor on the edge of Millenium City
Concept:
Superheroes embracing alternative lifestyles
Founded:
Website:
Click Here
Members:
An Adult Supergroup for the Alternative Hero
Overview
The House of Thorns is a semi secret society made up of supers and non-supers alike who engage in deviant sexual behaviours. This can range from wearing latex in their hero costumes to engaging in Dominant/submissive relationships. The House, both as a social structure and as a super group hold strict adherence to the Safe, Sane and Consensual creed for all members.
The House of Thorns does maintain a manor house where members can come and go with relative discretion to indulge their tastes and to visit like minded people. Likewise the House also manages the club Fetish Fuel, where any can go for a more public experience.
Misperceptions
One great misunderstanding is related to the club Fetish Fuel. While it is a fetish club, it is not a sex club and per local ordinances, there is no open sex, nor open nudity on the premisses. This is policed by a polite yet dedicated staff that are not afraid to ask visitors to take those activities elsewhere. For more see below
A second common misperception relates to the group's heroic nature. Every super inducted to the House of Thorns is a hero. While they are indeed interested in fetishes and deviance, they uphold the laws of the land, and are dedicated as well to bringing justice to a city that needs them as much as it does any vanilla super hero. To this end they do not admit members who engage in criminal behaviour, or indeed any action unbecoming a "Hero".
History
The House of Thorns was founded sometime in the mid to late 17th Century. It claims membership from some interesting historical figures (e.g. John Wilmot, 2nd Earl of Rochester and the Marquis de Sade). The infamy of the House goes back even further, as both overtly fond members and the ubiquitous enemies have contributed to such imagined histories. A rather large scandal that was endured in later times had people claiming that Gill de Rais was a member, which would have been impossible, but still used as potential means to scandalize and outlaw the House. Such efforts ultimately failed.
Much like the Hellfire Club, the House of Thorns was founded by nobility. Such people of wealth and station had the leisure time and resources to secretly gather to begin exploring fanciful "immoral" activities in the realms of art, philosophy, fetish, sex, and the occult. Unlike the Hellfire Club, though, the House of Thorns actually originated from a single noble House - the family Thorne.
As the House became more popular (coming and goings of its members and sycophants, even possible shame associated with having been involved) it evolved from whispered rumour to being a bit more known. It had to engage its share of fighting with the public, as it were (e.g. religious organizations, other nobles wanting them removed). Two options were available - give up or fight. The House decided, then, to begin working in the overt and covert world of politics and diplomacy (no strange action for a successful noble House). They began aiding in social and military ways, always somewhat subtlely, though how much they wanted known would dictate such. The House even blackmailed and exerted other pressures on its enemies. Due to this, the House survived, staying in the grey area of quasi-hidden but known in both fame and infamy.
Presently, no members of the Family Thorne are still alive (at least in the public knowledge). Apparently, the Mansion was all but destroyed during the Qulaar invasion and is in the process of being renovated. While the place is not entirely uninhabitable, there is much work yet to be done.
Club Fetish Fuel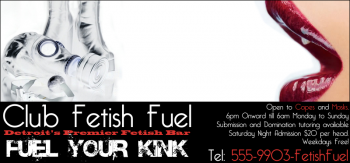 A common misconception is that Club Fetish Fuel is the House itself, this isn't true. The Club itself is in a completely different street to the Mansion-like House situated in Northern Millenium City, the Club is merely a front for the group, a means of revenue, and a place to meet like-minded Heroes and Civilians too. The Atmosphere is nice and people are welcoming, a night at Club Fetish Fuel is a one to remember.

The Club itself is friendly toward beginners and newcomers. Friendly Staff, Modern Contemporary styling's. People come into FF wearing whatever they wish, from full rubber with a gasmask, neon green miniskirts, all the way to a smart Tuxedo. On Wednesday nights there's a Domination and submission class helping people out who might want to dip their toes into the scene. Saying this there is absolutely no sex on the premises and everything that goes on inside the Club is legal and licensed.
Roster
Founding Members
Confirmed Members
Rumoured members