Elastigal
From PRIMUS Database
The author of this article has marked this as a creative work, and would prefer that other users not edit it. Please respect this, and unless repairing a typo, spelling, or other minor technical error, think of this page as read-only.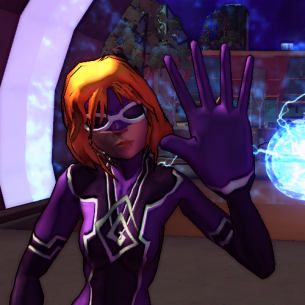 Melody Grand
Real Name
Aliases
Elastigal
Female
Gender
Human
Species
Caucasian
Ethnicity
Millennium City
Birthplace
Millennium City
Home Base
Relatives
Titanous (Father - Grant Grand, Retired)
Mini-Mel (Mother - Melany Grand, Retired)
Characteristics
21
Age
5'5"
Height
113
Weight
Green
Eyes
Red
Hair
Fair
Complexion
Petite
Physical Build
Physical Features
Fame
| ██ | ██ | ██ | ██ | ██ | ██ | ██ | ██ | ██ |
| --- | --- | --- | --- | --- | --- | --- | --- | --- |
Local
Alignment
| | | |
| --- | --- | --- |
| LG | LN | LE |
| NG | TN | NE |
| CG | CN | CE |
Public
Identity
3 years
Years Active
United States
Citizenship
College Student
Occupation
College
Education
Single
Marital Status
Known Powers & Abilities
Elastic Body
Enlargement
Shrinking
Equipment & Paraphernalia
In-Charcter Information
Origin Story
"Both of my parents were supers. Of course they had both retired from being superheroes before I was born. But, they still told me all about their heroics when I was growing up. Dad was a hero of titanic proportions who went by the name Titanous. He could grow to the size of a sky scrapper, or so he says, and his strength would increase along with his size. Mom used to get onto him when he'd show off and accidentally break through the ceiling. Mom went by the name Mini-Mel, her power was dad's polar opposite, she could shrink down so small that it was almost impossible to see her. When she got smaller she got stronger and faster, she actually picked dad up when he was the size of our house once, I couldn't stop laughing.
"I was born with a mixture of both of their powers. Like my dad I can grow to gigantic sizes and like my mom I can shrink. But, unlike both of them, I don't get any stronger. But that's okay, I've got my own trick. Unlike my parents I can change the size of individual body parts, and even control my proportions. As a result I can throw a powerful spring loaded punch or kick. I also developed my own unique power in addition to inheriting my parents size changing powers. My body reacts to forces as if it were made of rubber. I crushed my arm under one of dad's weights once, mom freaked out thinking I had broken my arm, but when she lifted the weight off of it my arm just sprung back into place as if nothing had even happened. It's physically impossible to break my bones, they just bend and stretch under any forces. I'm not testing my luck with blades though.
"Even though my body reacts like rubber, I can't bend and contort bones at will like other elastic heroes. I've still got a a completely normal musculature. So, no snaking my arm through a winding hallway to grab a crook who's trying to get away, or anything crazy like that... I could snake it through a series of pipes through my ramming my arm into the bends to force my bones to bend, but that tends to be a little painful...
"Oh! I can also crush enemies under a giant hand or foot. While my strength may not increase, my mass does, and that can be useful. I guess it wouldn't be entirely accurate to say my strength doesn't increase when I get bigger... I mean, it does a little, just no where near the same scale as my dad's. I remain proportionately as strong as I am now. I can lift about half my own body weight... yea I know I'm weak, but there's nothing I can do about it, I've tried building up more muscle mass by lifting weights and stuff, but it's impossible. Since my body reacts to forces as if it were made of rubber, it's impossible to put any sort of strain on my muscles, so no matter how often I work out I simply don't get any stronger. When I enlarge I can still only lift half my own body weight, so at my largest I can only lift a small car. Yeah, I can't get nearly as big as my dad either... well I might be able to one day, but so far the largest I can grow to is the size of a small apartment. But still, growing to around 300 foot tall and weighing almost 3 tons can have it's uses."
History and Current Events
Appearance
Personality
Abilities
Superhuman Powers
Skills
Equipment
Strengths and Weaknesses
Relationships
Family
Titanous
Elastigal's father, a retired superhero who possesses the power of Super Enlargement. Capable of enlarging himself into a towering behemoth. Due to the nature of his power his strength is relative to his size, making him a great powerhouse of strength when at his maximum size.
Mini-Mel
Elastiga's Mother, a retired superhero who possesses the power of Super Shrinking. Capable of shrinking down to the size of a flea, Mini-mel fought alongside her now husband Titanous back in their hayday as superheros. The couple retired after Dr. Destroyer's attack on Millennium City having barely survived the catastrophe with their lives.
Allies
Enemies
Neutral
Character Opinions/Impressions
Other Facts and Trivia
Out-Of-Character Information
Roleplay Hooks
Tropes