Crescent
From PRIMUS Database
The author of this article has marked this as a creative work, and would prefer that other users not edit it. Please respect this, and unless repairing a typo, spelling, or other minor technical error, think of this page as read-only.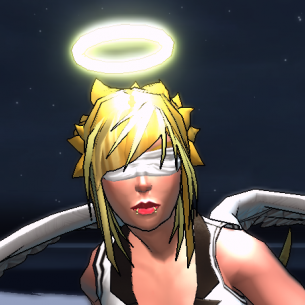 Killing me was a mistake they can never fix
Sarissa Brooke
Real Name
Aliases
Crescent
Female
Gender
Human-Celestial
Species
Caucasian
Ethnicity
Millennium City
Birthplace
Millennium City
Home Base
Relatives
Karolyn Brooke (Mother)
Henry Brooke (Father, Deceased)
Characteristics
18 (Deceased)
Age
5'7"
Height
Weight
Gold
Eyes
Blonde
Hair
Fair
Complexion
Athletic
Physical Build
Physical Features
Angel Wings
Golden Halo of Light
Fame
| ██ | ██ | ██ | ██ | ██ | ██ | ██ | ██ | ██ |
| --- | --- | --- | --- | --- | --- | --- | --- | --- |
Local
Alignment
| | | |
| --- | --- | --- |
| LG | LN | LE |
| NG | TN | NE |
| CG | CN | CE |
Complicated
Identity
2
Years Active
N/A
Citizenship
N/A
Occupation
K-12
Education
Single
Marital Status
Known Powers & Abilities
Celestial Healing
Equipment & Paraphernalia
Scythe
Chain
In-Charcter Information
Origin Story
The unfortunate victim of the increase in gang activity throughout Millennium City, Sari Brooke was granted a second chance by celestial intervention. Empowered by her new angelic abilities she has set forth, under the name Crescent, as a guardian and avenger for those who would be victims like her. Her presence on the streets strikes fear into those involved in her death. Weilding a scythe and chain as though she were the angel of death may also contribute to this fear.
History and Current Events
Appearance
Personality
Abilities
Her new life brought with it several new abilities.
Phoenix Immortality
To aid her in her new purpose as a Spirit of Retribution, Crescent was granted the ability to rise back up anytime she may fall. Additionally with every hit she takes she grows stronger and tougher.
Celestial Healing
Crescent is capable of using some minor forms of Celestial Healing to aid herself and those around her.
Angelic Scythe
An odd ability that took her a little bit of time to grow used to and learn how to use properly. Crescent is capable of manifesting a Scythe from her celestial energy. This weapon is nearly indestructible and impossible for anyone else to wield, as the instant the weapon separates from her it dissipates.
Chain
Unlike most who are given a second chance at life, Sari took up the very weapon that took away her life. This chain serves as both a reminder of what happened to her and a symbol of her determination to seek out retribution. Coursing her celestial power through the chain to reinforce it and imbue power to it, Crescent wields this chain against her enemies.
Strengths and Weaknesses
Relationships
Allies
Enemies
Neutral
Character Opinions/Impressions
Other Facts and Trivia
Out-Of-Character Information
Roleplay Hooks
Tropes
==Creator's Notes==