Yuki
From PRIMUS Database
The author of this article has marked this as a creative work, and would prefer that other users not edit it. Please respect this, and unless repairing a typo, spelling, or other minor technical error, think of this page as read-only.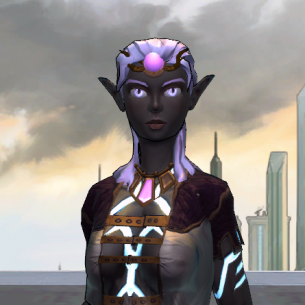 Yuki ???
Real Name
Aliases
Yuki
Female
Gender
Dark Elf
Species
Ethnicity
Birthplace
Millennium City
Home Base
Relatives
Characteristics
Age
Height
Weight
Lavender
Eyes
Pale Lavender
Hair
Dark
Complexion
Petite
Physical Build
Physical Features
Fame
| ██ | ██ | ██ | ██ | ██ | ██ | ██ | ██ | ██ |
| --- | --- | --- | --- | --- | --- | --- | --- | --- |
Recluse
Alignment
| | | |
| --- | --- | --- |
| LG | LN | LE |
| NG | TN | NE |
| CG | CN | CE |
Identity
Years Active
Citizenship
Occupation
Education
Single
Marital Status
Known Powers & Abilities
Elemental Conjuration
Equipment & Paraphernalia
In-Charcter Information
Origin Story
History and Current Events
Appearance
Personality
Abilities
Superhuman Powers
Skills
Conjuration Magic
Yuki practices the art of conjuration magic, calling forth forces from other places in the universe or even other universes entirely.
Mr. Smashy
A small Earth Golem created by Yuki's conjuration magic. While most conjured creatures are summoned from other locations, a Golem is created from materials conjured from another location. In this case mud and stone. Mr. Smashy acts as her guardian using it's superior strength to hold enemies at bay.
Bitey
A small Ice Golem created by Yuki's conjuration magic. Bitey's creation is similar to Mr. Smashy, but is composed of Ice and shaped like a hound. Bitey is a fast attacker who acts to trap enemies in ice prisons.
Stormy
A Wind Golem created by Yuki's conjuration magic. Stormy functions to move enemies and keep them grouped up for her other conjurations to take care of.
Impsy
A tiny Fire Imp summoned by Yuki, this little demon attacks Yuki's enemies often igniting them on fire.
Equipment
Strengths and Weaknesses
Relationships
Allies
Enemies
Neutral
Character Opinions/Impressions
Other Facts and Trivia
Out-Of-Character Information
Roleplay Hooks
Tropes
==Creator's Notes==