Scarlet Mirage
From PRIMUS Database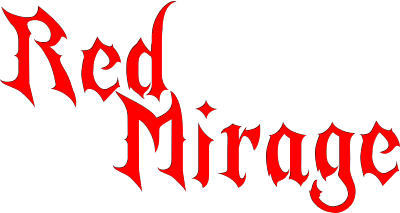 Identity
Real Name
Elizabeth "Liz" Kensington
Aliases
The Mirage, Red Florence
Birthdate
10/31/1991
Birthplace
Bexley, London
Citizenship

United Kingdom
Residence
Millennium City
Headquarters
Millennium City
Occupation
Freelance photographer and reporter, journalism student
Legal Status
Registered
Marital Status
N/A
· Known Relatives ·
N/A
Physical Traits
Species
Human
Sub-Type
N/A
Manufacturer
Model
Ethnicity
Caucasian
Gender
Female
Apparent Age
24
Height
1.79m / 5'10.5"
Weight
64 kg / 141 lbs
Body Type
Slim
Hair
Silver
(black in civilian guise)
Eyes
Lilac
(green in civilian guise)
Skin
Fair
· Distinguishing Features ·
glowing irises, silver hair
Powers & Abilities
· Known Powers ·
Sorcery, Arcane Energy Projection, Levitation, Teleportation, Healing
· Equipment ·
· Other Abilities ·
Description
The Red Mage
'Who I am? I'm just a mirage, a mere phantasm.'
Hair as white as snow, eyes glowing lavender - The local media have named this british sorceress the Red Mirage, a moniker she never actually used for herself before that, however.

Active in Millennium City since autumn 2014, the Mirage has aquired some lesser renown for standing up the gangs in Westside and the likes of DEMON - often assisting law enforcement agencies against paranormal villainy.

Immediately when arriving to Millennium City, she registered with PRIMUS, in a bid to avoid trouble with the authorities. However, Lieutenant McTaggart from the local UNTIL branch, who served with the London Metropolitan Police Service some years before, insinuated that the Mirage bears a resemblence to 'La Mystère', a villainous magician from France, who disappeared in 2009.

PRIMUS has since investigated this claim, finding it untenable eventually.
The Student Journalist
'Elizabeth Kensington, MCU Herald. May I ask you for an interview?'
Elizabeth Kensington, 24 years old, is a journalism student from the City University of London, who currently studies journalism at the MCU with a F1 Student Visa.
Additionally, she works as a freelance photographer and as reporter for the MCU Herald, a students' newspaper at the MCU.

Unbeknownst to those who know her as the introverted british student, she fights crime as the Mirage, disguising her hair and eyes with simple enchantments while being Elizabeth - making them appear black and green respectively.

She is rarely seen without a notebook and her Canon EOS 100D, as she roams the city for an opportunity to capture a better known 'cape' on digital film or to score an interview - since the meta-human world is a subject often covered by her in her articles.

Sharing a flat with a few other fellow MCU students, she occupies an apartment in Millennium City Downtown.
'The journalism thing? It seemed like a good idea at that time, that's what I told him as well. It gives someone ample opportunity to snoop around and a press pass opens doors, that would otherwise be closed.'
Activity
September/2014: Elizabeth Kensington arrives in Millennium City with a F1 Student Visa and enrolls at the MCU as a journalism student.


The Red Mirage appears for the first time in West Side, Millennium City. Later that year she reportedly lends assistance against the threat posed by Mechanon.
November/2014: A PRIMUS investigation with authorities in the United Kingdom, regarding the authenticity of Elizabeth Kensington's identity, yields no evidence that might point towards a forgery. Everything seems perfectly fine. Perhaps too perfect.
January/2015: Elizabeth Kensington begins working as a freelance photographer and writes for a student newspaper at the MCU.


The Red Mirage is reported to have thwarted a scheme of DEMON.
April/2015: A Millennium City University students' newspaper releases a series of articles about a number of superheroes, written by MCU journalism student Elizabeth Kensington. Some of these articles include short interviews. Featured heroes include Defender, Sapphire, Thundrax and Professor Mystic. Unfortunately, Nighthawk wasn't available for an interview.
May/2015: Due to the actions of the Mirage, Sigmar "The Inquisitor" Anderson, an insane zealot and supervillain, is incarcerated in Stronghold prison.
June/2015: The MCU Herald publishes a series of articles, titled "The Globalized Meta-Human" by Elizabeth Kensington. The articles deal with various aspects of meta-human society in an increasingly globalized world. Included are interviews with a representative of Harmon Industries, a VIPER defector and the CEO of a shadowy organisation.


A silver haired sorceress appears in Canada, wrecking havoc on a VIPER outpost.
Personality
The Mirage is outwardly cold and distanced; snide, supercilious even at times. In the end, this is nought but a facade.
As the student, she is always kind and polite, however, reclusive and somewhat introverted.
The truth is somewhere inbetween - Both the Mirage and the student, they are but mere masks she wears to an end. The person behind is a compassionate but conflicted one, determined to put her powers - that were begotten through malicious intent - to a good cause, to atone for the evil they have wrought on the world.
However, turning a curse into blessing is quite so easy.
'He asked why I have become so gruff and abrasive, for what reason I'd change so much. The truth is, I didn't change as much as one might expect, given the situation. It's a facade, meant to protect not only myself.'
Background
Elizabeth Kensington claims to hail from Bexley, a borough of London. According to her, she is the sole child of mundane middle-class parents and her powers began manifesting slowly with the onset of puberty. She also asserts that she always kept her abilities a secret and never fought criminals before coming to Millenium City.
Between 2012 and 2014, she studied journalism at the City University London, moving to Millennium City to further her studies afterwards.
While there is indeed no prior record of any acts of vigilantism on her part in the United Kingdom or elsewhere and evidence of the contrary is lacking, there are some who suspect that the identity of Elizabeth Kensington is fake, albeit a good one.
A few people have contended - without putting forth any hard evidence however, that the Red Mirage shares some similarity in outward appearance and manifested powers with Alexandrine Deruisseau, who gained some infamy in Europe as the villain 'Mystère Argente' for a short time, before disappearing in the wake of an incident in 2009.
During this incident - on Samhain 2009, the Mystère Argente attempted to utilize ancient arcane geometry to shunt the city of London into a small pocket dimension of her own, for purposes unknown. Before she could execute her plan, however, she was thwarted by a team of upstart european heroes.
Details of the incident are obscure, but it has been reported that Mystère Argente was inadvertetly killed by the heroes. This seems unlikely however, as she returned a short time later, in order to exact revenge and attempt to execute her plan one more time. Again she was thwarted and dissappeared without a trace afterwards.
Origin
Part I - The Mystère
Alexandrine Deruisseau, who was to become known as the occult villain Mystère later in her life, was born in 1990 as the sole daughter of Celestine Deruisseau, a woman of Creole descent from Harfleur, a suburb of Le Havre in France. Her father was a member of the House of Lords of the British Parliament, who strives to keep his short-lived, extramarital affair with Celestine a secret to this very day.
Growing up in the small town Harfleur, the silver-haired and purple-eyed Alexandrine was but a pariah to her peers.
Over the years, she developed a disdain for the people around her and the disregard of her father towards her mother and herself played no small part in this. It was only to due the kind and gracious Celestine, that Alexandrine didn't utilize her formidable innate talents for the arcane arts in acts of vengeance, against those who wronged her and her mother.
Alexandrine's talents manifested early on during her childhood, what contributed to the eerie aura that surrounded her. She could see, hear and feel the flow of magical energies in the world around her and it took her little effort to manipulate, bind and shape these forces for effects of her design. With practice, she was able to use complex arcane geometry to command terrifying power of increasing potency.
However, Celestine Deruisseau was terminally ill and when she eventually succumbed to her deteriorating health, there was nothing left that could hold Alexandrine back anymore. It was in 2007, when she adopted the name Mystère and began her short-lived but callous reign of terror across Europe, which was not to end until October 2009.
Apart from taking what she wanted with absolute disregard to anyone in her way, she sought repeatedly to exert revenge on her father, which ultimately culminated in the ritual that she attempted on Samhain in 2009, inside the Clock Tower of Westminster Palace.
Part II - The Florence
Joanna Sinclair was born on the 31st of July 1980; her parents were Catherine Sinclair, a nurse at the Conquest Hospital in St. Leonards-on-Sea, and John Sinclair, a police officer in Hastings, which was also the hometown of the Sinclair family.
The tall, auburn-haired Joanna grew up to be a gentle and kind person, who always strived to improve the lives of the people around her. It was not much of a surprise that she decided to begin training as a paramedic after finishing school. A move her parents were less approving of, however, was her decision to join the Royal Army Medical Corps.
After her military training to become a CMT, now Lance Corporal Sinclair served her first tour of duty in post-war Kosovo. It was here at a field hospital, where she was given her nickname 'Red Florence', after tending exemplarily for the wounded there, both soldiers and civilians. Another activity she picked up during that time from another soldier was photography and several of her photos were published in a magazine of the British Army.
It was during her second tour of duty in late 2005 in Afghanistan, when she met Captain Zachary Wolfe for the first time. Wolfe was in charge of a patrol in the Helmand Province, which was supposed to be uneventful, but in the end only narrowly escaped disaster. Even today, Zachary Wolfe, who was severely wounded in an ambush, doesn't tire to emphasise that if it weren't for the actions of Lance Corporal Sinclair, he had not survived that day.
Part III - Ouverture
Sinclair and Wolfe would not meet again until 2007. Wolfe, who was honourably discharged from the military and had to undergo the fitting of cybernetics because of his injuries, was planning to set up a team of heroes, in order to combat super-villainy in Europe. Vested with a meagre amount of support of funding and support from a small number of European governments, he approached a number of people to join his project, one of them the now also honourably discharged Joanna Sinclair.


Other members were Markus Kirsch, a German inventor and builder of the team's equipment; Sean McNeal, a mutant with considerable strength from Scotland and Nerea Viteri, a Basque mystic and the team's expert on matters supernatural.
While Viteri and McNeal relied on their innate talents, the other team members depended on equipment and armours provided by their technician Kirsch.</p>

The headquarters of the team was situated in Bexley, a borough of London, within a mansion that Wolfe inherited.
It was in 2008 and throughout the following year, that the team repeatedly encountered the Mystère and stood up against her schemes, with varying degrees of success. This enmity came to its apex on the 31st of October 2009, the night of Samhain.

Repeatedly, Alexandrine's father had evaded her brand of justice being done to him. In October 2009, however, she was not going to let him get away again. Willing to work malice on the whole city of London in order to get him, she prepared a ritual of terrifying power inside the Clock Tower of Westminster Palace. The arcane geometry she was utilizing was drawing power from Ley lines from all over Britain and was aimed at opening a portal to the Netherworld and teleporting the entire city there and Alexandrine's father with it.
Moments before the ritual was to be completed, the Mystère was tracked down by the Wolfe's team. After an intense battle against the silver-haired sorceress and her summoned, demonic minions, Alexandrine Deruisseau was accidently fatally injured. In a bid to escape death, she used the accumulated energies from her occult array to transmute the last person who came into contact with her into a copy of herself, in both body and mind. This person was Joanna Sinclair, the team's medic who attempted to save the sorceress' life. The Mystère's body was disintegrated in the process, leaving nothing to be found by the police afterwards and the 'new' Mystère quickly made her escape.

A few days later, the new Mystère attempted the ritual again, this time at Hyde Park, setting up an arcane array west of the Serpentine, the dividing lake in the park. The remainder of the team engaged her again here. However, the sorceress and her minions quickly managed to incapacitate both Wolfe and McNeal. It was only due to the intervention of Nerea Viteri that the ritual failed.
The Basque mystic had realized what the Mystère had done and after a protracted battle, she was able to subdue her opponent and neutralize the evil witch's influence on Joanna's mind. This came at a price, however. Viteri was gravely injured in the fight and did not see the end of the day.

With the help of Markus Kirsch, Joanna retreated to the team's headquarters, seeking to hide away from the rest of her team and the authorities. Without any evidence, she was unable to prove that she was indeed herself and not the Mystère.
Part IV - Entracte
In the aftermath of the incident in Hyde Park, Zachary Wolfe was hospitalized and had to undergo a replacement of many of his cybernetic implants, followed by rehabilitation; Sean McNeal disappeared and some have suggested, that he might have gone back into one of the dark holes of the underworld of Glasgow where he had originally come from. With the help of Markus Kirsch, Joanna Sinclair spent most of the next two years in hiding from the authorities, who were still after the Mystère.
With the help of a mystic from the dark, occult underbelly of London, Joanna was eventually able to master her new talents to a degree and eventually, through the use of simple enchantments, she was able to temporarily change her appearance enough to allow her some freedom of movement. Seeking out other arcanists within and without London's boundaries, she was gradually able to gain more control over Alexandrine Deruisseau's abilities, however, without reaching her level of skill, for which the Mystère had many years to master.
In early 2012, Joanna decided that it was time to move on. Again enlisting the help of Markus Kirsch, his technical aptitude and contacts within the British authorities, they created the identity of Elizabeth Kensington. Having assumed this new identity, she enrolled at the CUL and began taking courses in journalism.
Two years later, after progressively improving her occult skills and maintaining her identity as a journalism student, she seized the opportunity of furthering her journalism studies at the MCU. The reason for this however, was not merely an academic interest. Rather it was for the opportunities Millennium City had to offer in regards of improving her skills further, as well as utilising them for a good purpose. For all the harm this magic had done, she intended not to have Nerea Viteri's sacrifice been in vain.
Shortly after, a new student from overseas took up courses at the MCU and the Red Mirage appeared for the first time in West Side, Millennium City.
Powers and Skills
The abilities of the Mirage are magical in nature, her very body is a focal point for a arcane energies, magical lines of power - that fuel her powers.
The actual capacity of this, however, is severely limited by sheer physical boundaries.
By actively manipulating the flow of these energies within and without, the Mirage is capable of producing a variety of spells and effects:

-Levitation and Flight

-Focusing, projecting and binding of arcane energy

-Channeling of aneris and eris, spells that either heal or disrupt

-Sorcery, enchantments in particular
Further Information
Aura
Her aura appears as concentrated arcane energy, billowing like a dense, purple fog. At the centre of the swirl, there appears to be a node, where geometric, arcane lines seem to cross.
Telepathy
Attempting to enter the mindscape of the Mirage, a telepath might find themselves confronted with the sight of a dark and almost barren, desolate landscape, surrounded by dark, foreboding mountains.


Amidst a howling wind, voices can be heard.
What the voices say is unintelligible, however, one of them sounds furious and raging; another one is demanding, commanding even; a third voice is crying and lamenting an unknown fate.
Far away, in the middle of the desolate plain, there seems to be an area of calm, where the wind and the voices don't reach.
Adversaries
The Zealot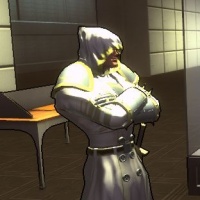 Name: Sigmar Anderson
Alias: The Inquisitor
Sigmar The Inquisitor Anderson is an insane zealot and self-proclaimed champion of god. One would be very hard-pressed to actually find any resemblence to any existing religion contained within his mad delusions, however. Empowered by celestial magic, whose origins are obscure, and technical aptitude, he invisions himself destined to punish all those sinners. Problem is, from his point of view, everyone is.
Soon after attempting to implement his world-view in West-Side, Millennium City, he came into contact with the Red Mirage. After several altercations, his schemes had finally been stymied.
Currently, Inquisitor Anderson resides in Stronghold Prison.
The Déjà Vu

Name: Alexandrine Deruisseau
Alias: Mystère Argente
Someone the Red Mirage hoped never to see again, yet has to see everytime she looks into a mirror. Alexandrine The Mystère Deruisseau is back and she is out for revenge.
Considered gone for good after 2009, the french sorceress has somehow returned from the dead again and no matter the circumstances of her resurrection, she is at least as callous and dangerous as before, if not even more so.
First reappearing in Canada after she took over a VIPER facility to some sinister end in June 2015, she has since left behind a trail of occult mayhem across north america. Currently, the new Mystère remains at large.
The Hitman

Name: Unknown
Alias: кол (Kol)
An assassin for hire, sent by [REDACTED], Alexandrine The Mystère Deruisseau's father.
After hearing rumours that his illegitimate daugher is still alive and at large in Millennium City, he hired the assassin кол to take care of that problem, before it might endanger his political career yet again.
While not being a super himself per-se, кол has a reputation of being very proficient at dealing with meta-humans, especially those of the magic using sort.
His identity is unknown, but it is rumoured that he might once have been a member of a special operations unit from an eastern european nation.
Tropes
General
Blue-Collar warlock - Not exactly the traditional sort of sorceress.

Occult detective - Only part-time.

Supernatural is purple - Exactly what is says on the tin.

The Red Mage - Quite literally. She is rather proficient in both healing and destructive magic as well.

Older than they look - Only by a few years, though.

Doppelgänger - She resembles a villain that disappeared in 2009.

Clone by Conversion - There's a reason why she resembles a villain.

Battle in the Center of the Mind
Characteristics
Purple Eyes - She has purple eyes...

Glowing Eyes - ...that glow in the dark.
Personality and Morality
Brainwash Residue - Something might have rubbed off afterall.
Powers
Geometric Magic - A lot of her spells involve this.