Michiko
From PRIMUS Database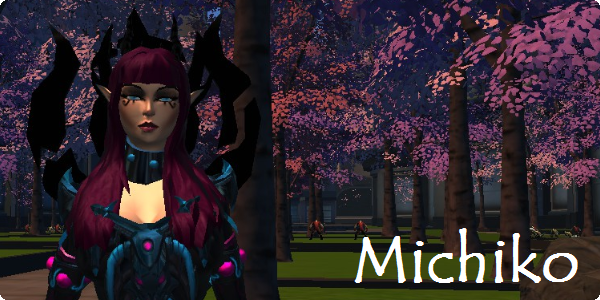 Spoiler Warning
The following details are about a player-created storyline, or is information currently unrevealed about a character.
Please do not use this information ICly unless given permission to do so.
Michiko
Player: @Autlawz
"There is good in everything, you just have take a closer look."
Biographical Data
Real Name:
Michiko Zazare
Known Aliases:
Michi to some.
Gender:
Female.
Species:
Half Human, Half Dennevian.
Ethnicity:
Asian, Alien.
Place of Birth:
Born in Kyoto, Japan in the year 2123.
Base of Operations:
((Wut?))
Relatives:
Father - Zaku Zazare


Mother - Hatsumomo Zazare

Characteristics
Age:
23
Height:
Weight:
Eyes:
Sky blue, hint of glow.
Hair:
Naturally a plum shade.
Complexion:
Pale Ivory, human tone.
Physical Build:
Vixen, Leggy, Sexy, Well-Toned.
Physical Features:
Several black horns, which she hides now and then with magic. Black tattoos around the eyes.
Status
Fame:

| ██ | ██ | ██ | ██ | ██ | ██ | ██ | ██ | ██ |
| --- | --- | --- | --- | --- | --- | --- | --- | --- |

Unknown

Alignment:

| | | |
| --- | --- | --- |
| LG | LN | LE |
| NG | TN | NE |
| CG | CN | CE |

Identity:
She has no secret identity, she is simply a citizen who helps out when she can.
Years Active:
One.
Citizenship:
Alien.
Occupation:
Secretary for attorneys Harlan & Fiske.
Education:
High school diploma, honors in the arcane school of dark sorcery.
Marital Status:
Single.
Known Powers and Abilities
Celestial, and Dark powers, Telepathy, Empathy, basic survival magic.
Equipment and Paraphernalia
Panda backpack, Kazaki, which is an inter-dimensional portal.

Physical Attributes
 
 
 Strength
 
 Weapon
 
 
 Durability
 
 Armor
 
 
 Speed
 
 Reflexes
 
 
 Resistance
 
 Stamina
 
 
 Dexterity
 
 Agility
 
 
 Combat
 
 Regeneration
 
 

Non-Physical Attributes
 
 
 Energy
 
 Psionics
 
 
 Telepathy
 
 Willpower
 
 
 Sorcery
 
 Technology
 
 
 Intelligence
 
 Knowledge
 
 
 Charisma
 
 Bravery
 
 
MaekadaBox created by @Maekada




The Planet of Dennev

Dennev was a peaceful planet, full of a peaceful race of aliens, the Dennevians. Their society centered around the arcane arts, and magic. It was their livelihood, their entertainment, their way of life. The planet itself, was a luscious land, full of forestry, mountains, and an abundance of creatures native to the world only, as far as they knew. The people of this land, looked up to their leader, Priest of the Dark Arts, Zaku Zazare. A fierce leader, a mild tempered man, and first leader in close to a century that specialized in darkness, proved to be quite the leader in the oncoming events that the planet, and it's people would endure.


In 2089...

In the year 2089, a series of events took place, that brought down the peaceful empire, and brought shame to the dark arts, and to the Dennevians leader, Zaku. Within the grand city of Argo, where many buildings dedicated to the study of the many forms of arcane, was the housing for the study of the dark arts themselves. A curious student, delved into magic that was beyond them, releasing onto the planet a terrible creature, the demon Ugaro. Within days, he was able to gather minions to overthrow the society, enslaving all that he could. Zaku, being a resourceful man, opened a rift within the city of Argo, saving all those that he could, which was not many at all. Two thousand aliens, found their way to a modern Earth. An Earth very much unlike the current one, where only humans existed. Zaku, through the use of magic and diplomacy, struck a deal with the Earth leader, and thus, they received refuge on the planet.


In 2123...

It was 2123, thirty four years had passed since the refugee Dennevians made Earth their new home. Zaku Zazare, had created a name for himself amongst his people, many who had found work on Earth, dedicating themselves to creating peace, teaching humans of the ways of magic. Zaku had settled in the heart of Kyoto, Japan, deeming the land to be a peaceful place, reminiscent of his homeland. Here, he met the love of his life, a maiko, Hatsumomo. They married, and thus, Michiko was born. Unfortunately, her mother did not survive her birth. She had been impaled with Michiko's horns, a trait found in her people, though, Michiko's were much larger than was the norm for females.


In 2145...