Holo
From PRIMUS Database

Identity
Real Name
Nexus ID: 321-53634-19
Aliases
Nexi-3, Nexi
Birthdate
N/A
Birthplace
Alternate Earth
Citizenship
Class 3 VR License
Residence
Millennium City
Headquarters
Millennium City
Occupation
Student
Legal Status
Unknown
Marital Status
Unknown
· Known Relatives ·
Unknown
Physical Traits
Species
Human (Hologram)
Sub-Type
Psionic entity
Manufacturer
N/A
Model
N/A
Ethnicity
Gender
Female
Apparent Age
15
Height
Weight
None
Body Type
Thin
Hair
Peach
Eyes
Skin
· Distinguishing Features ·
Flickers like a hologram
Powers & Abilities
· Known Powers ·
Holographic entity
· Equipment ·
· Other Abilities ·
Welcome to the World User Nexus, Citizen
Loading Identification:
Nexus ID: 321-53634-19
Legal: Class 3 VR License
VR Restrictions: Gemini Ward, Leo Ward


L҉̩̣͈oa̜̯̮̙̫̙d̳̗̰̼̮̜̖i̴̻̳̱n҉g̮͟ ͓̣͜P̥̫̱̮a̴̮͓̯͖r̫̼͎̙͇͚̗a͎me̗̹͕͎̭t̕e̫͇̮̬͠r̷̤s͍̝̣͔̕.̜̠̠̘͘: D̬̪̦̲͎a̭̰̤̦ţ̙̺̝a̸͇͉̥ ̪̗C̰̻̳̣̭̩̱͡o̼̟̺̘̬̻r̖͕͍͈̠̼̙r̷̘̮̫͇̬up̮͈̖͕̫̕t̛͎̲̹͔̮̙̬i̴̻ͅo͈̯̗̭̕n̵ ҉͔p̭͔̦̤̗̣r͉e͇͚͖ͅs̗̱̤̥̼̞̀e҉̘͓̣̪͚n̛̠̟t̨͙̘̞.͈͘ͅ


Background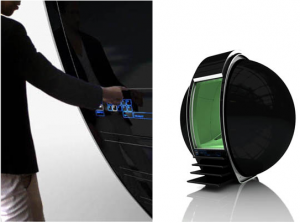 Born to a wealthy family in an alternate Earth, Nexus ID: 321-53634-19 spent much of her days in the world's global VR simulator. In this particular world, the gap between the haves and have nots was very steep indeed. The global government ensured that registered citizens had access to the Nexus.

Those outside the Nexus had no link to opportunities, while those able to afford the surcharges were assured connections, training and employment no matter where they lived, since all human interaction had begun to move to the VR.

Some people rarely left the VR world and had to have special robots attend to their needs or hired "ghosts", humans outside the VR system, to help them.

Recently, a group of superheroes among the ghosts rose to power in the outskirts of society and finally brought to fruition an immense psionic terrorist attack on the central hub of the World Nexus. The psionic explosion destroyed the mainframe and hundreds of thousands of lives connected to the VR were lost in a digital maelstrom. Some were flung through the psionic rift into alternate dimensions released by the cascading echoes of the attack.

Nexus ID: 321-53634-19 is one of these survivors, her psionic matrix escaping through one of the tears into this dimension.
Formerly a spoiled debutante, she's now fed up with being a hologram as the novelty of it wore off after a few weeks. She's almost resigned herself to her fate, but still hopes she can find some friends to interact with to at least relieve the boredom.
Holographics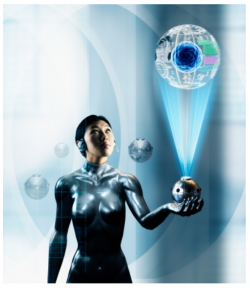 Nexi-3 exists as a holographic entity now. She has a 3D form, but is intangible. Any objects can pass through her and she can pass through most objects. Her holographic form is stabilized by her own psychic energy. She is also immune to nearly all sorts of common damage such as radiation, fire, cold, vacuum, and is ideal for entering such hazardous environments to monitor things.
When she sleeps, her form will flicker and fade in and out as her mind rests. If her form is disrupted out of consciousness, she will appear as a 2D Image on the surface where she is at. Her psionic hologram matrix allows her to vaguely feel things on a surface level, and she can see and hear around her, but has no sense of taste or smell.
As a hologram, Nexi-3 has digital properties. This allows her to enter devices and appear on screens or to appear inside this Earth's virtual realities.
Another unique aspect of being a hologram is that Nexi-3 has her own virtual inventory and wardrobe. She can pull out a wide variety of virtual items that she had back on her home world or can acquire through any other virtual world she is in.