COMPASS
From PRIMUS Database
The Coalition for Organizing Metahuman Policing and Security Services (COMPASS)
is a lawfully-aligned hero organization based in downtown Millennium City.
History
Following his voluntary resignation from Eternals Incorporated, Rodney "the Wheelman" Duelleck founded the first core iteration of COMPASS in 2015, taking much inspiration from his former teammate's initiative to promote heroes of a new generation. Realizing the personal challenges that superheroes (especially metahumans like himself) face in modern times, Rodney drafted a two-fold mission statement outlining COMPASS's role as both an active supergroup and a not-for-profit organization that would look out for the basic needs and rights of their contemporaries.
While still mostly focused on Millennium City due to its status as a hub for the metahuman community, COMPASS has quietly expanded its operations since its founding and now serves clients across the continental United States.
Mission and Operations
COMPASS fields a representative team of superheroes responsible for providing direct emergency response within Millennium City and its environs, with the co-operation of local and federal law enforcement.
COMPASS' secondary mission is to provide heroes-- locally and across the country-- with access to various forms of social assistance, including special resources geared for empowered metahumans. As an organization, some of the services COMPASS aims to facilitate include:
Public relations with the superhero community and metahuman/civilian relations
Basic powers orientation for new metahumans
Counseling for metahuman-related matters (advent of powers, civilian impact, duty-related traumas)
Meta-civilian training and work placement
Quality of life assistance (civilian financing and procurement of basic needs)
Referral to authorities where necessary (ASPRA, PRIMUS, etc.)
Headquarters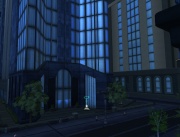 Credit to @gijoespouse02
The McAfee Building, also known colloquially as "the Monument" or (in Wheelman's case) "the Three-Sixty", was originally built to serve as a monument to investment mogul Arthur McAfee (1897-1978). Despite the man's legacy being marred by the crimes and controversies of his life, upon McAfee's death his wife Christine used most of the wealth she accrued from his estate to fund a philanthropic organization in his name.
The property was purchased and renovated for use by COMPASS in 2015.
Facilities
Team Roster
[[File:|100px|right]]
"No one said taking the high road was easy."
[[File:|100px|right]]
BIG BREAK
"---"
[[File:|100px|right]]
CAPTAIN MAJESTIC
"---"
[[File:|100px|right]]
"---"
[[File:|100px|right]]
"---"
[[File:|100px|right]]
SPECTRUM LASS
"---"
[[File:|100px|right]]
TELEKON
"---"
[[File:|100px|right]]
"---"
Associates
Bravado, Dune, Prime, Doctor Nightfall, Masked Avenger