Arcana
From PRIMUS Database
The author of this article has marked this as a creative work, and would prefer that other users not edit it. Please respect this, and unless repairing a typo, spelling, or other minor technical error, think of this page as read-only.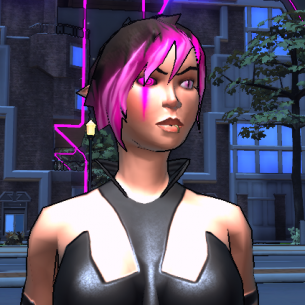 "Oh, come on now, Yes I really can see what your about to do."
Unknown
Real Name
Aliases
Arcana
Female
Gender
Mandaarian
Species
Ethnicity
Mandaar
Birthplace
Millennium City
Home Base
Relatives
Characteristics
Age
Height
Weight
Pink
Eyes
Black
Hair
Fair
Complexion
Thin
Physical Build
Physical Features
Blind Right Eye
Unusual Scar
Fame
| ██ | ██ | ██ | ██ | ██ | ██ | ██ | ██ | ██ |
| --- | --- | --- | --- | --- | --- | --- | --- | --- |
State
Alignment
| | | |
| --- | --- | --- |
| LG | LN | LE |
| NG | TN | NE |
| CG | CN | CE |
Secret
Identity
Years Active
Citizenship
Occupation
Education
Single
Marital Status
Known Powers & Abilities
Telepathy
Psionic Illusions
Psionic Healing
Equipment & Paraphernalia
In-Charcter Information
Origin Story
Once a member of PSI, Arcana developed her Psionic powers. She developed a talent for producing mental shields and mending injuries with her psionic abilities. For years she worked with PSI while projecting a mental illusion convincing everyone she was a human.
Arcana befriended a young adept who called herself Psion. She taught her to control her abilities and how to project illusions. The two were inseparable, and powerful together.
Eventually the day came when someone saw through Arcana's illusions and discovered the truth. News that she was not human quickly spread throughout PSI. When the news reached Psion, she was devastated.
While the other members of PSI locked Arcana up to experiment on her, Psion sat back and did nothing. They taxed her to the absolute limits of her powers. Their tests warped her mind and drove her mad for a period. The tests warped more than only her mind. Her psionic powers erupted destructive energy from her right eye during their final test on her. Amidst the chaos that ensued, Arcana made her escape from PSI. The experience left her scarred, her right eye permanently swirling with psionic energy and a scar pulsing with the same power.
History and Current Events
Appearance
Personality
Abilities
Telepathy
Arcana possesses a natural talent for Telepathy, specializing in projecting illusions into the minds of her enemies. Many have described it as having your worst nightmares turned into a reality accompanied by the worst mind wracking headache imaginable.
Psionic Perception
Arcana's right eye provides her with a constant visual perspective into the minds of anyone within her visual range. This perception allows her to see any actions they are about to take, similarly to if she were clairvoyant. Her perception only extends to the immediate future of the subconscious mind, and planned future of the conscious mind. This allows her to always stay at least 1 step ahead of anyone she can actively see. She is also able to perceive events outside of her field of view through the minds of those who are within it.
Acceleration
Through intense mental conditioning, Arcana is able to accelerate her body allowing her to move at incredible speeds.
Accelerated Regeneration
By tapping into the portion of the brain responsible for overseeing the bodies healing process, Arcana is able to accelerate the rate at which she or another recovers from minor injuries. Though if hard pressed she will opt to convince the injured party that the injury doesn't exist or isn't that bad instead.
Strengths and Weaknesses
Relationships
Allies
Enemies
Neutral
Character Opinions/Impressions
Other Facts and Trivia
Out-Of-Character Information
Roleplay Hooks
Tropes
==Creator's Notes==